LoveReading View on Mad in the Back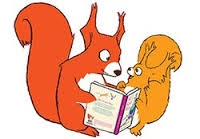 A Dyslexia Friendly Picture Book for Parent and Child
It's hard to know who will laugh more at this new picture book, children or their parents! Any adult who has undergone a long car journey with kids will be familiar with the phrase 'I can't drive properly if you two are going mad in the back'! Michael Rosen and Richard Watson describe just such a journey, and make it really funny. Mum's frustration and irritation grows as the two in the back bicker, fight and make endless demands for drinks, until she eventually explodes! Sounds familiar? The pictures are hilarious and it's brilliant for reading out loud too. Read and enjoy in the comfort of your home, not on the road. ~ Andrea Reece
Publisher Barrington Stoke was inspired to create the Picture Squirrel Books titles after meeting a man with dyslexia at a book event. "We were approached by a gentleman who told us that it broke his heart that he couldn't read to his child because of his dyslexia," M.D. Mairi Kidd told The Bookseller. "So we talked to Michael Morpurgo, who we were already working with on low text books [textbooks that use a limited number of words]." The layout of picture books can be difficult for adults with dyslexia as the language and typeface are often very varied, the text can be cut into small chunks or is sometimes spun around a picture, which can make a book tricky if you don't have good reading skills. Barrington Stoke worked with the authors and illustrators to ensure that the books are suitable for dyslexic readers and thereby helping more families grow a love of reading.
On the Picture Squirrels...Michael Morpurgo says: "I was immediately taken with the idea of the Picture Squirrel books, a picture book list that dyslexic parents and less confident readers can read with their
children too."
Mad in the Back Synopsis
A hilarious snapshot of a familiar aspect of family life, told with Michael Rosen's trademark wit and genius for language. This deliciously anarchic book, joyously illustrated and written by a national treasure, is perfect for sharing and will be loved by children and parents alike.
Two siblings drive their mother to distraction on the car journey from hell, while Mum tries every trick in the book to get them to behave, from cunning distractions - Look! It's a LAMP-POST - to threats of abandonment by the side of the road. All together now: Are we nearly there yet?
Part of Barrington Stoke's picture book range for all the family, with easy-read font.
Sharing stories is one of the best things families can do for their children and the Picture Squirrel books published by Barrington Stoke all contain a cluster of dyslexia-friendly features to help and support parents and carers with dyslexia so that they too can enjoy great books with children in their care.