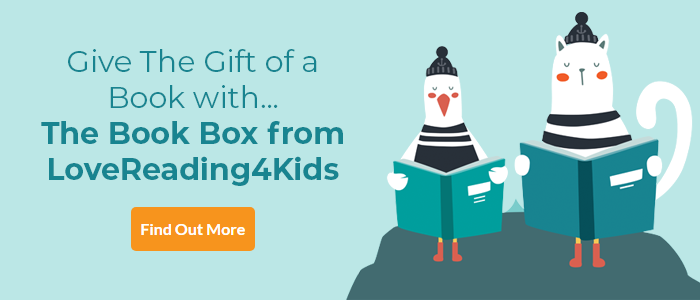 The Night Spinner Review
One of Our Books of the Year 2017 | With this action packed third and final instalment to the series, Abi Elphinstone has secured her place in the imagination of young readers.
Dark magic threatens to shroud Moll and everything she holds dear in an eternal night, reducing the world around her to a place without hope. Never has she been further from home or felt more alone, her constant companion self-doubt as she tries to fight back against the last two Shadowmasks. Yet the darkness is hard to fight and it will take every ounce of courage she has to overcome them. Moll must face her deepest fears whilst she, Siddy and Gryff embark on an adventure that will see them face goblins, witches and giants in the northern wilderness. Can they fight the curse of the Night Spinner and find the Amulet of Truth to bring light back to the land, when so many have already fallen under its spell?
Abi Elphinstone is most certainly a writer to watch. You can feel her own sense of adventure and wonder for the world right within the heart of her stories and this is an amazing gift to share with the children who read them. Totally absorbing with just the right level of scary, the fears and feelings within are something that all children will relate to. Through Moll, Gryff and their friends we learn the importance of friendship and learning from your mistakes, whilst being true to who you are and finding courage even in the very darkest of moments. A new adventure is promised from Abi in 2018 but in the meantime this trilogy is certainly one that will be returned to again and again. ~ Shelley Fallows
The Night Spinner Synopsis
Moll Pecksniff and her friends are back for a new adventure as the thrilling series that began with The Dreamsnatcher concludes.
In a ruined monastery in the northern wilderness, a Shadowmask called Wormhook sits in front of a spinning wheel. He is spinning a quilt of darkness known as the Veil. A masked figure then carries the Veil across the lands, slipping it through the windows of children's bedrooms to poison their minds...Meanwhile deep inside Tanglefern Forest, Moll and her wildcat, Gryff, are waiting for a sign from the Old Magic before they continue their quest. There are two Shadowmasks still out there and if Moll's world is ever to be free of their dark and terrible magic, she must find the last Amulet of Truth. Still reeling from the loss of fellow Tribe member, Alfie, and armed only with a mysterious set of clues, Moll sets out on an adventure across the northern wilderness with Gryff and her friend, Siddy, at her side. They must brave the Lost Isles and scale the Barbed Peaks but there are witches, goblins and giants lurking at every turn. And, all the while, the Shadowmasks are drawing closer to conjuring their eternal night and destroying everything Moll loves...
Can Moll, Sid and Gryff find the friend they think they have lost? And do the Tribe have what it takes to defeat the Dark Magic once and for all? Perfect for fans of J.K Rowling, Piers Torday and Eva Ibbotson.
The Night Spinner Reader Reviews
Some of our Lovereading4kids Reader Review Panel were lucky enough to read and review the first in this series, The Dreamsnatcher. You can click here to read their full reviews.
Lily, age 11 - 'This book is really mysterious and gripping – I couldn't put it down. The descriptions of the surroundings were very vivid and Abi really makes you care about the characters.'
Joshua Zinkin, age 9 - 'The book was exciting once you got into it but lots of the language was quite difficult.'
Millie Barrett, age 8 - 'I enjoyed the mysteries and cliff-hangers in the book. It is also very detailed so even though there are no illustrations, it creates pictures in your mind!'
Alice East, age 10 - 'What I really liked about this book was that it never became boring as there was always something exciting going on...This book was fantastic and I would give it 8.5/10.'
Sidney Greenslade, age 11 - 'A magical story of mystery and danger, The Dreamsnatcher is full of great personalities and wild landscapes.'
Michelle Toy - 'The keywords that jumped out to me from this book were friendship, family, community and courage...A fantastic, magical debut Children's novel The Dreamsnatcher is a dream to read!'
Corey Yuile, age 9 - 'I am the victim of a dreamsnatch! Love Magic? Love Action and Adventure? The Dreamsnatcher is the perfect read!...5 out of 5 from me!'
Jasmine Harris-Hart, age 12 - 'I liked reading this book even though I didn't get gripped by the plot.'
Cara Anderson, age 9 and 1/2 - 'Very intriguing. It's quite spooky...'
Eleanor Cookdale, age 10 - 'This adventure story is both funny and incredibly scary. I really enjoyed reading the book because it was so exciting and full of twists and turns, and also Siddy was very funny.'
Sophie Bridges, age 12 - 'The Dreamsnatcher by Abi Elpinstone is a good book and the theme is good and the ideas are well thought through.'
Evie Hollingshead, age 10 - 'An exciting book full of suspense that made me want to read until the end!'
Chloe, age 11 - 'This is an exciting adventure about a gypsy girl and her friend, a wildcat called Gryff. It gripped me from the first sentence.'
If you loved this, you might like these...