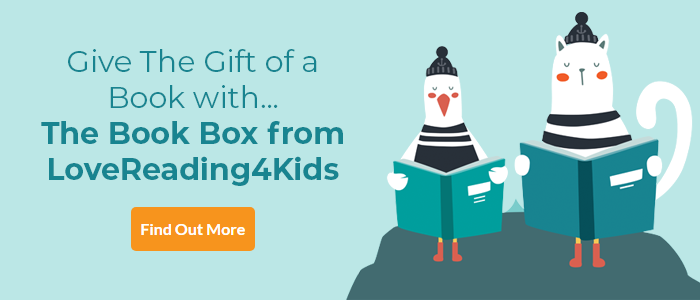 LoveReading View on Danny Dingle's Fantastic Finds: The Metal-Mobile
In a nutshell: fart-powered non-stop adventure, part book part comic-strip | Danny Dingle and his best friend Percy Mcduff are just normal boys – if normal boys dream of becoming super inventor spies for a gas-powered hero called Metal Face, and pour their energies into farts research ... When they get the chance to build their own soap box racer and enter a soap box derby, first prize tickets to the Metal Face theme park, the boys rise to the challenge. The action is non-stop while large type and masses of cartoon illustrations make this a speedy read for even the slowest or most reluctant reader. Kids will love it, a does what it says on the tin if the tin is full of baked beans. Children who enjoy Danny's adventures will also like anti-heroes Norman, of the World of Norm books, and Compton Valance. ~ Andrea Reece
A Piece of Passion from Cecilia Bennet at Sweet Cherry Publishing Working in children's publishing as an acquiring editor, I am always looking for something that stands out from the crowd. Danny Dingle does just that with it's all-singing, all-farting, larger-than-life characters and irreverent tone. It is a treat to work on a book that's so genuinely funny and full of personality, which can be enjoyed by readers of all ages. The book's universal appeal is something that is mentioned over and over in reviews, and it is one of the reasons it is so brilliant for engaging reluctant readers. Danny's witty, imaginative and relentlessly optimistic personality is infectious: you can't help but love him despite his many flaws.
Danny Dingle's Fantastic Finds: The Metal-Mobile Synopsis
DO NOT READ (unless you are Danny, Percy or Superdog.) Just don't. Seriously, DON'T. I'm not joking! BE WARNED: if you turn the page, this notebook will EXPLODE!
Meet Danny Dingle, aka Experimental Face (ha ha) - super-secret spy and future assistant to the greatest superhero EVER, Metal Face! Danny and Percy know they have to pull out all the stops to beat Danny's arch enemy, Gareth Trumpshaw, who's an evil genius, with an evil genius dad.(They're also big fat cheaters!) Can Dad's special brew of super-fizzy cola save the day? Or will it be down to Superdog to come to the rescue yet again.
Danny Dingle's Fantastic Finds: The Metal-Mobile Press Reviews
"The buzz it has created in the classroom is priceless and I hope that we can use it as the inspiration to encourage more reading." – Mrs Dowsett, teacher.
"I had my class fighting over who was going to read the book next! It was lovely to see such enthusiasm over a book." – Year 5 Primary school teacher.
If you loved this, you might like these...