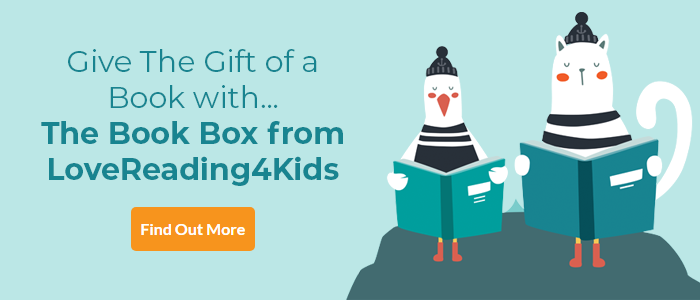 LoveReading View on Lady Mary
A Julia Eccleshare Pick of the Month April 2018
Princess Mary lives in a palace and is the daughter of Henry V111, the King of England but, when her parents' marriage begins to fall apart, the sadness she feels is not so very different from that of any child in the same situation and Lucy Worsley captures that brilliantly. But for Mary, the divorce has far, far more significance than it would for anyone else as it changes Mary's life completely and puts her in great danger. As Anne Boleyn takes her mother's place Mary is demoted from Princess Mary to Lady Mary and finds herself usurped by her new baby sister Elizabeth. How can Mary win back her father and keep herself safe? Lucy Worsley's child centred view of this moment in English history captures all the drama and danger and wraps it in an enthralling family story. ~ Julia Eccleshare
Julia Eccleshare's Picks of the Month for April 2018
The Grotlyn by Benji Davies
The Book Case: An Emily Lime Mystery by Adam Stower
Lady Mary by Lucy Worsley
The Wardrobe Monster by Bryony Thomson
The Tale of Angelino Brown by David Almond
You Are Awesome by Matthew Syed
Lady Mary Synopsis
More than anything Mary just wants her family to stay together; for her mother and her father - and for her - to all be in the same place at once. But when her father announces that his marriage to her mother was void and by turns that Mary doesn't really count as his child, she realises things will never be as she hoped. Things only get worse when her father marries again. Separated from her mother and forced to work as a servant for her new sister, Mary must dig deep to find the strength to stand up against those who wish to bring her down. Despite what anyone says, she will always be a princess. She has the blood of a princess and she is ready to fight for what is rightfully hers.
Lady Mary Reader Reviews
Kids love to read and so in addition to the review by one of the Lovereading4kids editorial experts some of our Lovereading4kids Reader Review Panel members were also lucky enough to read and review Lucy Worsley's, My Name is Victoria. You can read their full reviews by clicking here.
Mia Goodman, age 10 - 'FAB! The best historical fiction novel that I've ever read. It was so fun to read and find out the adventures Miss V has when she goes to Victoria's house.'
Ella O'Gorman, age 12 - 'My Name Is Victoria is an absolute page turner. I thoroughly enjoyed this book and it gave me everything I love in a book, including, history, drama, mystery and unusual twists.'
Emma Corden, age 11 - 'My Name is Victoria is a book perfect for all those out there who love historic books.'
Zoe Basson, age 9 - 'I love this book more than I can explain...This book perfectly explains Queen Victoria's childhood. She has that murky darkness with a glint of light.'
Cally Evans, age 10 - 'An outstanding book that definitely deserves a place on your bookshelf!'
Ella Jones, age 12 - 'I loved reading My Name is Victoria and read it quickly. I love how you don't realise all you're learning about Princess Victoria, the Kensington system and what the royal was really like.'
Lisa Redmond - 'This book is an absolute delight ...With this book I believe Lucy Worsley has really found her voice as a writer of historical fiction for children.'
Lois Peck, Dormston Secondary School - 'I think it is a truly wonderful book and I love how it sent me into my own world...I rate this book 5 out of 5 stars.'
Jessica Holme, age 10 - 'This is a truly amazing book. I think that this book is for every age, especially for people who are studying the fascinating Victorian's.'
Hannah Minton, age 11 - 'A wonderful view into the early life of Queen Victoria...I enjoyed this book because it helped me see the past in a relevant and detailed way, not to mention exciting.'
Rose Hopkins - 'It was an easy book to get into. There is a twist to the storyline which makes it intriguing and thought provoking... It's a thumbs up from me.'
Rosie Watch, teacher - 'I don't think this book really brought alive the early years of Queen Victoria although it was a pleasant and enjoyable read.'
Isobel Eagle - 'A thrilling tale where Victoria realises the truth about the people she loves...'
Lady Mary Press Reviews
Praise for My Name is Victoria;
An excellent historical novelist for children The Times, Children's Book of the Week
Praise for Eliza Rose;
Wolf Hall for the Skins generation The Times, Children's Book of the Week
A ripping children's yarn ... Dangerous Liaisons for 12-year-olds, but with a Hampton Court setting (and a happyish ending) The Observer


If you loved this, you might like these...