LoveReading View on Dog Diaries
In a nutshell: It's a (very funny, very readable) dog's life
June 2018 Book of the Month |
Narrated at breathless speed by super-excited puppy Junior, this new series is spot-on for newly confident readers. Junior's honest, direct, puppy's-eye-view account of his life with new owner Ruff Catch-a-bone (aka much-loved Patterson character Rafe Khatchadorian) is one of non-stop domestic drama. Junior's enthusiasm for life is catching, and it's impossible not to be completely caught up in his descriptions of his daily activities. Excitement comes in the form of puppy-obedience training, and reaches a climax at a local dog show. Junior's future depends on him winning a prize, which he does, but in a typically funny and unexpected way. Great fun, and super-readable too, helped by well-spaced, large type and Richard Watson's comic illustrations.
Dog Diaries Synopsis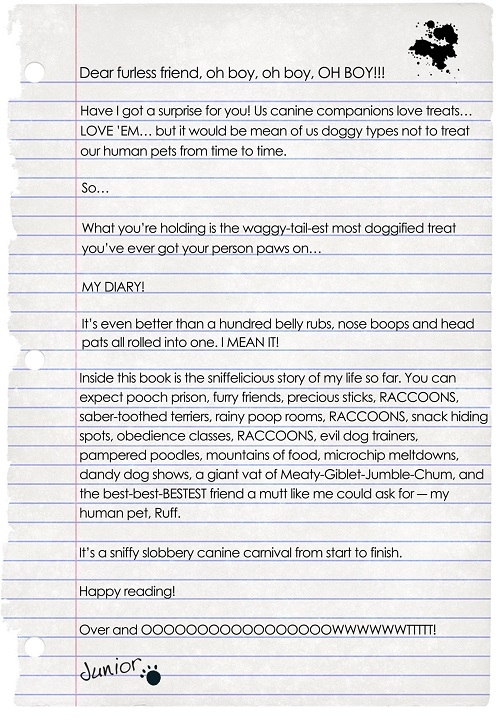 Introducing Junior, the newest member of the Khatchadorian family! After being adopted by Rafe and his family Junior settles into life at the Khatchadorian house, finding all the best nap spots and taking on his nemesis, the vacuum cleaner. But, like his new owner, trouble seems to follow Junior and his friends from the dog shelter wherever they go. Not even the local park is safe!
Dog Diaries Reader Reviews
In addition to our Lovereading expert opinion some of our Lovereading4kids Reader Review Panel members were also lucky enough to read and review this title. You can read their full reviews by clicking here.
Belle, age 9 - 'This is a funny story about Junior the dog and his life with his new family, the catch-a-doggy-bone family. He is funny, a little bit crazy, and gets excited about racoons!'
Ollie Hopwood, age 8 and Toby Hopwood age 6 - 'Dog Diaries had our boys hooked from the first page with its cheeky humour.'
Amatullah Khatun, age 8 - 'With funny scenes and terrific illustrations my daughter enjoyed reading this book.'
Katie Macauley, age 6 - 'Very funny. The pictures in the book are fun and there is something on every page.As I have my own dog I now understand him so much better. A great book for dog owners or anyone that wants a giggle.'
Sam Briggs, age 8 - 'This book is epic! It is so funny and an insight into life as a dog.'
Ethan Watkin, age 10 - 'Really hilarious. Would appeal to younger readers as well as 8-10 year olds as it's so funny. Really makes you think what it's like to be a dog!!'
Rob Anderson age 8 - 'A very silly, but funny story.'
James McNichol, age 8 - 'Dog diaries is a very good book.'
Matthew, age 9 - 'This book is about a dog and his owners.'
Prisha Yadav, age 8 - 'Brilliant book with lot of fun and amazing illustrations.'
Cody Wakefield, age 10 - 'A hilarious story narrated by Junior the dog! Perfect for anyone age 7+.'
Huxely Glen, age 7 - 'A very funny book full of fun adventures. We couldn't stop laughing all the way through as the dog got up to some fun things. I hope there are more books like this as it was a great book to read.'
Iulia Motoc, age 10 - 'Dog Diaries is full of excitement and definitely brought me to tears of laughter! I really enjoyed reading it because of the amazing illustrations and fantastic characters.'
Leah, age 9 - 'Dog Diaries is a fantastic book and I would really recommend it to ages around 7-11. The book is about a dog that goes by the name of Junior and this is his diary.'
Toby Little, age 10 - 'There are some good surprises that happen in the story! My favourite part was when Junior goes and chases a raccoon near the trash bins in the dog park.'
Sam and Jack Radford, age 7 and 6 - 'Really funny - we loved this diary of an untrainable pooch. The jokes were perfectly pitched and made us laugh out loud. We loved the illustrations and thought the ending was brilliantly funny.'
Malakai, age 9 - 'I didn't want it to end. I found it very funny. 5/5 stars. Highly recommend it. I thought the dog was the best character. I cannot wait for the next one.'
Isabel Yeon Clifford, age 7 - 'This book is so funny & my favourite part is the dog calling the bathroom the poop room!'
Joshua Hyun Clifford, age 9 - 'My fave part was when he thinks his owner Ruff is his pet. A Funny and different view than most pet books. Least fave is when he's in the kennel. 10 out of 10 for this book!'
Annie, Age 8 - 'This was really funny and silly. I laughed a lot when I read it. I recommend it to everyone.'
Freya, Age 9 - This book made me feel happy. It made me laugh out loud. I would buy it because it's different to books that I've read. Please go and buy it now.
Elizabeth White, age 8 -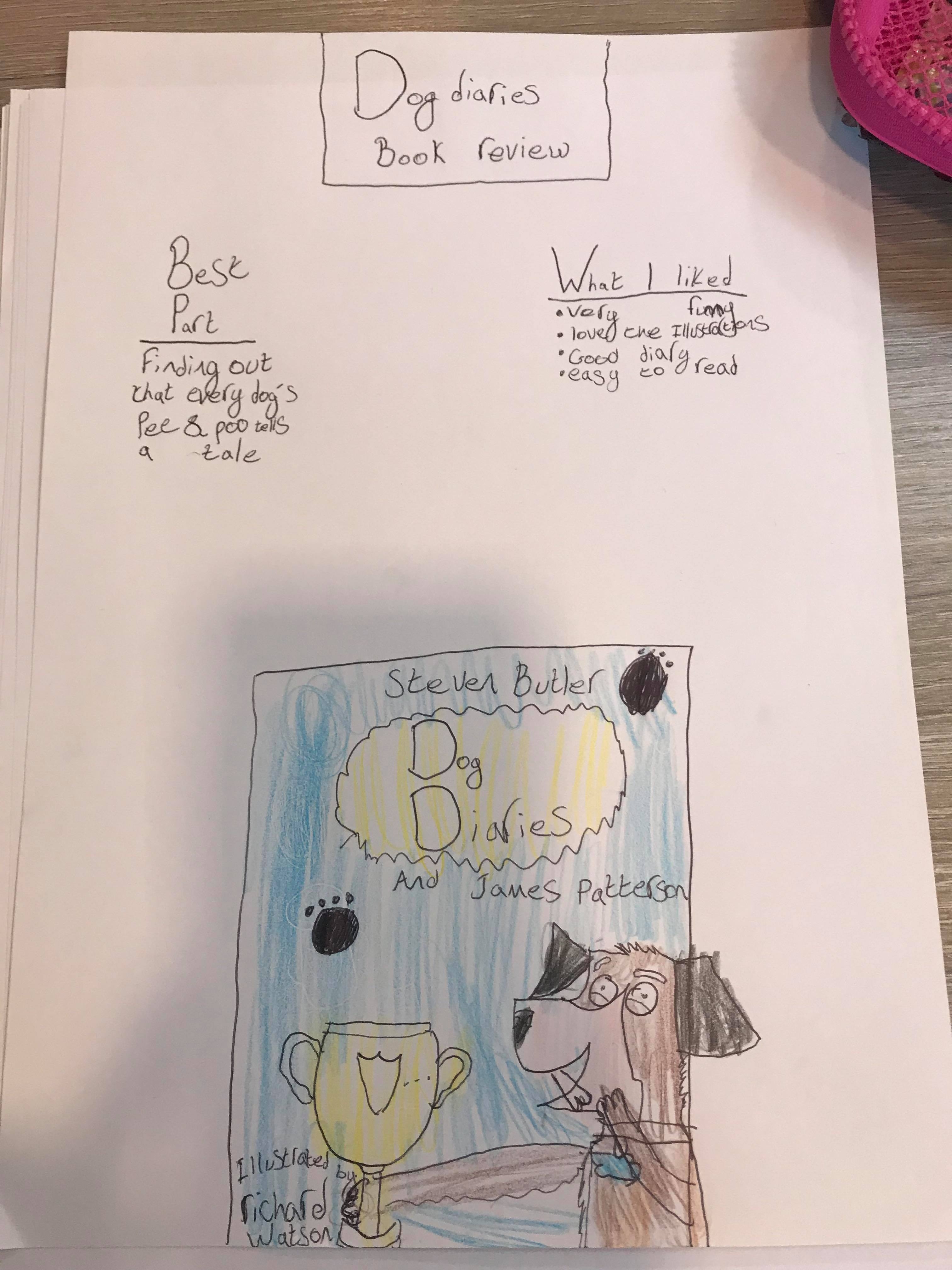 Dog Diaries Press Reviews
Lively and funny, these illustrated chaotic canine capers will keep young readers entertained and eagerly anticipating further instalments of Junior's diaries. Armadillo magazine
Got a lot of laughs from our testers, two of whom are obsessed with dogs, so they particularly loved it. It tells the story from a dog's point of view and has plenty of illustrations for kids to enjoy ... A popular choice. Independent Online
If you loved this, you might like these...