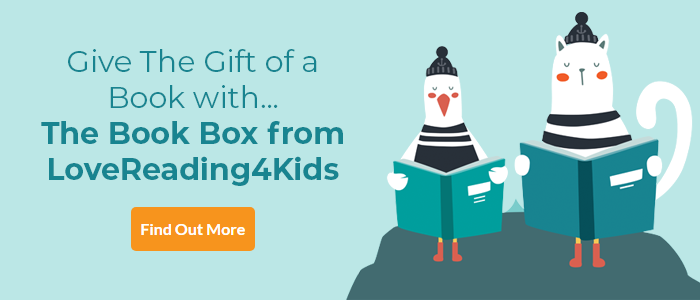 The Storm Keeper's Island Review
Magical, with an engaging main character and a mysterious setting - the plot carries you along
Swept along by the wind and sea and suffused with magic and mystery this is an ebullient adventure story that compels its readers to believe just as the young hero Fionn begins to do. Sent to stay on the wild Arranmore Island with his reclusive grandfather, Fionn enters a world dominated by the forces of magic – and by water which has always terrified Fionn. Gradually, Fionn begins to understand his grandfather's now fading power as to accept and embrace his own new destiny. Catherine Doyle has a lightness of touch as a story-teller that makes the impossible convincing.
July 2018 Debut of the Month | A Julia Eccleshare Pick of the Month July 2018
Books in The Storm Keeper Trilogy Series:
1. The Storm Keeper's Island
Other Info
Julia Eccleshare's Picks of the Month for July 2018:
A First Book of the Sea by Nicola Davies
Junkyard Jack and the Horse That Talks by Adrian Edmondson
All About Families by Felicity Brooks
A Stone for Sascha by Aaron Becker
Sleep by Kate Prendergast
The Storm Keeper's Island by Catherine Doyle
The Cook and the King by Julia Donaldson
Catherine was inspired to write The Storm Keeper's Island by her real-life ancestral home of Arranmore Island (where her grandparents grew up) and the adventures of her many sea-faring ancestors, particularly her grandfather. "When my grandfather, Captain Charles Boyle, left Arranmore as a young man, he took a piece of it with him. I remember peering over his ship's railings into sapphire seas in Galway Bay, getting a red-and-white fishing rod from him on my fourth birthday and spending long afternoons tying sailor's knots on his blue ropes, listening to stories of his wild and restless island. Not too long ago, my grandfather developed Alzheimer's disease. I have spent the past couple of years trying to navigate the difficult long goodbye, learning to reconcile the person I love with the version of him that is slowly fading away. Fionn faces the same challenge: the struggle to view his grandfather as a man who lives with Alzheimer's disease but is not diminished by it. A man who is still the sum of all of his experiences, despite his inability to recall them. If Malachy Boyle cannot remember his own adventures, then Fionn must remember them for him. He learns, as I am learning, that for all the transiency of memories, love is not so easily erased by the winds of time."
The Storm Keeper's Island Synopsis
Fionn Boyle and his older sister Tara have been sent to stay with their grandfather on the remote island of Arranmore for the summer. Though Fionn has never met his grandfather before – an eccentric old man who lives in a tiny cottage filled to the brim with candles – he knows he comes from a long line of brave lifeboat men, who wear the sea behind their eyes.
Fionn is scared of the sea. He has no interest in adventure or shipwrecks or the restless wind that rustles through the island, as though in search of something. But an old magic is stirring deep inside the layers of Arranmore, and it is calling out to Fionn. A dark storm is coming, through time and over sea, the same storm that took his father twelve years ago. To protect his family, Fionn must embrace his destiny as the Storm Keeper's heir and face the fear that has haunted him for as long as he can remember.
Catherine Doyle's stunning first novel for middle grade readers is a magical adventure set to become an instant classic.
The Storm Keeper's Island Reader Reviews
Some of our Lovereading4kids Reader Review Panel were lucky enough to read and review this title. Click here to read the full reviews.
Rosie Watch - 'Exciting, dramatic and descriptive. A wonderful combination.'
Eloise Mae Clarkson, Age 16 - 'This book is about Fionn's first visit to Arranmore Island. This is the home of his ancestors and her Fionn discovers the magic within the island.'
Rebekah Marsh, Age 15 - 'This book contains such a vast amount of unique concepts and ideas that I found myself slightly confused at times. The concepts were immensely mysterious and magical and I overall loved the book.'
The Storm Keeper's Island Press Reviews
The Storm Keeper's Island will blow you away ... A magical new voice in fantasy. Wise, warm and wonderful Eoin Colfer, author of the Artemis Fowl series
So magical and wild that it's like being swept away by the sea ... She's taken an ancient story and found something new and bold and wild in it - I think only real bone-deep writers and storytellers do that. I can't wait for the next - Katherine Rundell, author of The Explorer
Funny, dark and blazingly beautiful, The Storm Keeper's Island is a thrillingly inventive adventure - Kiran Millwood Hargrave, author of The Girl of Ink & Stars
Gripping, poignant and beautifully written ... One of the most exciting books for children that I have read in years and seems destined to become a modern classic - Louise O'Neill, author of The Surface Breaks
Flickers with a rare and wonderful magic ... Unforgettable - Abi Elphinstone, author of Sky Song
Magical ... An enchanting book. It's beautifully written - Marian Keyes, author of Anybody Out There
I miss Fionn and his grandfather and their island as if they were real ... which they are, thanks to Catherine Doyle - Lauren Wolk, author of Wolf Hollow
If you loved this, you might like these...