LoveReading View on I Don't Like Books. Never. Ever. The End.
A sparkling debut picture book about the irresistible power and magic of stories
A Julia Eccleshare Pick of the Month February 2020 | February 2020 Debut of the Month
A celebration of the wonder of reading! Mabel HATES books. She gets given loads of them but has no interest at all in reading them. But, one night, the books piled up in her room come alive. The stories jump out of their covers and off the pages so that they can show Mabel their story worlds. She is intrigued by a detective adventure, excited by the chance to board a spaceship and take a trip to the moon, delighted by the thought of accompanying a knight on his quest to seek castles and to duel with dragons. But, there is no way she can find out what happens next in these stories unless she begins the read the books! An entertaining celebration of why reading is such fun.
I Don't Like Books. Never. Ever. The End. Synopsis
Mabel can't be bothered with books. They're fine for juggling, standing on to reach high shelves, and even bumpety-bumping down the stairs. But the stories inside? No, thank you! Until one day, the books decide they've had ENOUGH. They'll show her!
Mabel is plunged between the pages of the books she's ignored, meeting a whole host of characters who will change everything for her, forever…
A gorgeously warm picture book, celebrating the boundless potential of stories to inspire and delight. Sharon Davey's superb illustrations add warmth, life – and over 1,000 books! – to Emma
Perry's charming storytelling.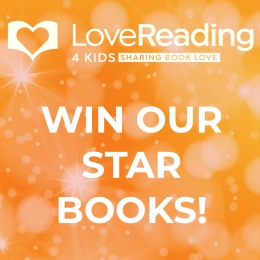 Don't miss out on on a chance to win this amazing selection of books, what a prize this is! As you may well know, we have a section of our site where we proudly display our Star Books – the books that really stand out from the crowd of the thousands of books published and the hundreds of books we select and read every year here at Team LoveReading4Kids. Similar to 2019, we will again in 2020 be running a competition to win the Star Books, but this year we plan to run it a little differently. We have launched a brand new competition for you to win the first batch of LoveReading4Kids 2020 Star Books. These are also the first batch of LoveReading4Kids Books of the Year 2020. This draw is open only for UK residents currently in the UK and is free to enter, multiple entries from the same email address will only be counted once. The draw closes on 30th June 2020. The winners will be notified as soon as possible.
I Don't Like Books. Never. Ever. The End. Press Reviews
'I love this book. For ever and ever. The end!' Michelle Robinson,
author of Ten Fat Sausages
If you loved this, you might like these...