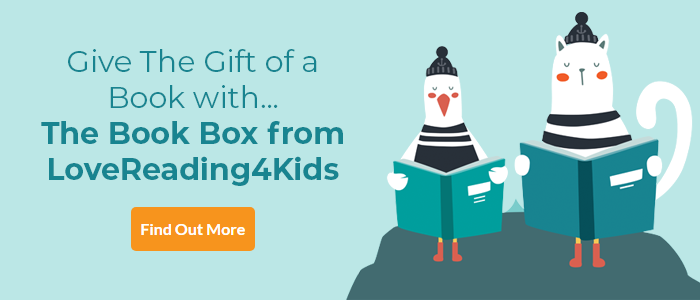 Leonora Bolt: Secret Inventor Review
Inventive adventures with an irresistible young inventor
January 2022 Debut of the Month
Inventors don't come much more inventive than young Leonora Bolt. In her home on remote Crabby Island, shared with her otter Twitchy, eccentric housekeeper Mildred and (occasionally) with her nasty Uncle Lester, Leonora comes up with all sorts of amazing gadgets and most astonishing of all is the Switcheroo, which can make objects swap places, via a nifty bit of quantum computing. Despite her brilliance, Leonora has never yet left the island and Uncle Luther seems determined to keep it that way. When a boy called Jack is washed up though, Leonora has to help and in the process she discovers secrets her uncle was keeping (we knew he was a bad un!). The story is full of fun and surprises, plus a fair bit of tension: will Leonora escape the island and Uncle Luther? Were her parents really lost at sea? Favourite scenes include a ride in a hot air balloon, suspended from a wonderful variety of inflatables, and another in the stinkiest cave in fiction. Lots of fun, this is one to recommend to readers who like their adventures wild, wacky and full of invention(s).
Leonora Bolt: Secret Inventor Synopsis
WARNING: EPIC INVENTIONS AND SECRET SOCIETIES AHEAD . . .
Leonora Bolt spends her days creating incredible inventions in her TOP SECRET laboratory, under the watchful eye of her terrifying uncle. Everything changes one day when a strange boy washes up on an inflatable lobster and reveals that Uncle Luther has been stealing her inventions and selling them on the mainland. Leonora, armed with her most important inventions, must leave Crabby Island for the first time EVER to embark on an unforgettable journey that will test her brainpower to its limits.
With the help of an otter with a special skill, a questionable cook and a singing sea captain, can Leonora dream up an invention that will defeat her evil uncle once and for all? Violet Baudelaire meets Peanut Jones in this epic STEM-themed adventure about believing in your brainpower - and yourself!
Leonora Bolt: Secret Inventor Press Reviews
'Fizzing with fun, friendship and fabulous inventions!' - Maria Kuzniar
If you loved this, you might like these...
All versions of this book
About Lucy Brandt
Lucy Brandt is a mum of two young kids and lives and works in Brighton. She has worked for nearly twenty years in a variety of traditional and digital marketing roles, largely specialising in technology - she has poured her technological knowledge into the inventions she created for her debut novel Leonora Bolt: Secret Inventor. Gladys Jose is an illustrator and storyteller. She graduated from the University of Central Florida in 2012, where she earned a Bachelors in Fine Arts degree, specializing in graphic design. Gladys is the illustrator of FRESH PRINCESS (HarperCollins, 2019), THE ELEPHANTS HIDE AND SEEK HANDBOOK (Sourcebooks 2020) LEONORA ...
More About Lucy Brandt