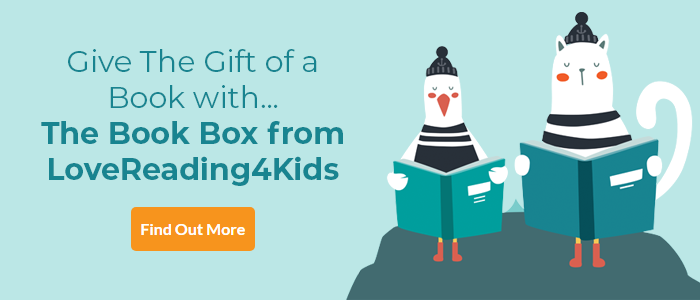 LoveReading View on Chitty Chitty Bang Bang 1: Flies Again
Shortlisted for the Roald Dahl Funny Prize 2012. Award winning Frank Cottrell Boyce breathes new life into the classic story of a flying car originally conceived by James Bond's creator, Ian Fleming. When Mr Tooting loses his job he embarks on an exciting new project to restore a broken down VW camper van so that the whole Tooting family can enjoy some thrilling new holidays. Adding a bit of this and bit of that and a racing car engine the van – with the family inside – are soon off on an unpredictable trip of a life time!
Frank Cottrell Boyce: "The very first film I saw in the cinema was Chitty Chitty Bang Bang. I remember two things about the occasion – one was that we were taken to the pick 'n' mix in Woolies and actually allowed to choose our own sweets (I went for Cherry Lips). The other was the moment when Chitty drove off the edge of the cliff and the whole building rang with howls, first of fear and then frustration as the image froze and the word 'Intermission' blazed across the screen. I sat through the next ten minutes not even looking at the sweets I'd so carefully picked and mixed, just waiting for the film to start up again. It was the day I discovered that a story could be even better than Cherry Lips!"
STOP PRESS:
An audiobook download is now available from iTunes - click here. Actor David Tennant has been chosen by the family of Ian Fleming as the voice of fiction's most famous flying car, Chitty Chitty Bang Bang. David has recorded the audiobook of Chitty Chitty Bang Bang Flies Again, by Frank Cottrell Boyce, which is available to download in time for Christmas.
Lucy Fleming, niece of Ian Fleming, says: 'We are thrilled that David agreed to read the audiobook. He is such a talented actor and his voice brings Frank Cottrell Boyce's story to life with a wry humour and great characterisation. Chitty could not have been in safer hands with him behind the wheel!'
Chitty Chitty Bang Bang 1: Flies Again Synopsis
The first ever sequel to Ian Fleming's Chitty Chitty Bang Bang, written by bestselling author Frank Cottrell Boyce and endorsed by the Fleming family. You can find the book's website here.
Lucy Fleming said: "Chitty Chitty Bang Bang is thrilled to have Frank Cottrell Boyce, with his humour, his genius and his spanner, sparking her plugs, polishing her chrome and buffing up her bumpers. Her graceful wings are poised to take off on a new flight, with Frank's skilful but possibly oily hands on the steering wheel."
When the Tooting family find a vast abandoned engine and fit it to their camper van, they have no idea of the adventure that lies ahead. The engine used to belong to an extraordinary flying car and it wants to be back on the road again ...fast! The Tootings can haul on the steering wheel and pull the handbrake as hard as they like, but their camper van now has a mind of her own. It's not long before they're hurtling along on a turbocharged chase as Chitty tracks down her long-lost bodywork. But there are sinister forces at work too. When it comes to a car as special as Chitty, everybody wants a piece of her ...
Chitty Chitty Bang Bang 1: Flies Again Press Reviews
'Chitty Chitty Bang Bang Flies Again is much funnier and more engaging than Fleming's original novel. The book looks great too, filled with lovely illustrations by Joe Berger, who even manages to sneak in a magnificent diagram of James Bond's Aston Martin, detailing exactly where you'll find its secret panels, machine guns and ejector seat.' - Guardian
'It's a daunting task to write a sequel to Ian Fleming's Chitty Chitty Bang Bang, but there couldn't be a more inspired choice than Cottrell Boyce, whose versatility and verve sweep all doubts aside in this fast and furious road trip.' - Daily Mail
If you loved this, you might like these...