LoveReading View on Monster and Chips
One of our Books of the Year 2013 & April 2013 Debut of the Month Fans of The Wimpy Kid will love this delightfully disgusting and dangerous story about what happens when Joe sets out to buy some chips from McGreasy's takeaway. Instead of finding the takeaway, Joe meets a monster looking for someone to help him in his café and from then on food becomes something completely different. With a menu featuring Vomitburger and Chips, Flattened Frog Fritterers and Chips and more, Joe soon realises that he needs to keep his wits about him if he is going to stay safe – and off the table!
----------------------------------------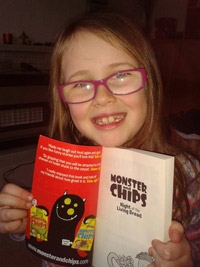 In addition to our Lovereading expert opinion for Monster and Chips a small number of children were lucky enough to be invited to review this title. One of our reviewers, Evie was thrilled to find the Monster and Chips review she wrote printed inside the sequel, Night of the Living Bread, she bought last week!
Scroll down to read more reviews...
Monster and Chips Synopsis
Somewhere in suburbia, or maybe smack-bang in the middle of your city, there is a very special diner. What's so special about it? Well it does the best chips ANYWHERE but also its customers are a little bit 'unusual'...some people say they are monsters...The diner is hard to find, you have to look carefully, in fact some people say only a special kind of kid can find this special kind of diner. But maybe that kid could be you? When Joe the 'hooman' gets a job at Fuzzby's diner, he learns to bake zombie-cupcakes, exploding milkshakes and not to stare at the customers - even the ones who are see-through. He also foils a terrible plan to sabotage the annual Grand Cooking Competition.
With cartoon strips, revolting recipes and a Special's Board that'll make your tummy churn, take a seat at Fuzzby's and join the fun.
Also available as a full-colour eBook, with multi-coloured monsters on every page!
Click here to download 5 exclusive cards of key characters from the books!
Monster and Chips Reader Reviews
Alexia Braimo, age 7 I love the characters. The characters were so funny. Click here to read the full review
Nicholas Butler,age 7 I thought this book was AWESOME, disgusting and horrible all at the same time! Click here to read the full review
Ved Goswami, age 10 I think Monster and Chip is a really funny book with loads of funny ingredients and crazy customers. Click here to read the full review
Alexander Bisland, age 7 I recommend this book to people who like monsters, funny stories and CHIPS! Click here to read the full review
Alex Crisp, age 7 There are great pictures throughout the book, and awesome monsters...Click here to read the full review
David Lunt, age 8 I really enjoyed this book and I especially liked the little cartoons which made me laugh. Click here to read the full review

Evie Young, age 7 I really enjoyed reading this book and have told all my friends about how great it is. Click here to read the full review

Sam Harper, age 9 It made me laugh out loud again and again. If you like funny stories you'll love this! Click here to read the full review

Hannah I thought the book was funny, a bit silly and a bit rude. I really enjoyed reading it. Click here to read the full review

Adam Graham age 9 This story will be loved by anyone who absolutely loves jam packed adventures and is 7+. It is so gripping that you will be attached to it like cheese on toast stuck to the carpet. Click here to read the full review

Cerys Collins, age 9 I really liked this book because it is funny and there is lots of good pictures in. It is also good and quick to read. Click here to read the full review

Declan Broom, age 7 The book was very funny when Barry was saying rude things about everyone. My favourite character is Joe because he likes chips. Fuzby was the monster at the restaurant.