Ecological and Environmental Interest - Fiction
The books in this section all have a theme of conservation, raising environmental awareness and/or championing green issues.
This Month's Featured Ecological and Environmental Interest - Fiction Books

9+ readers
11+ readers
A Jack Courtney Adventure : with Chris Wakling | Young readers who want to be gripped, challenged, informed and entertained – this exciting new adventure series is just what you've been waiting for. Fourteen-year-old Jack is on a safari holiday in the Democratic Republic of the Congo with his parents, the wealthy founders of a conservation charity. His friends Amelia and Xander are on the trip too – so far, so idyllic (though he could do without his arrogant cousin Caleb), but then his parents are kidnapped by mercenaries. Jack has already experienced one family tragedy, he's determined he'll prevent another. This is a taut, tightly plotted thriller which puts young people firmly in the driving seat, but there's lots about family and relationships too. Moreover, the authors will inspire a fascination about the wildlife of the region in readers, and alert them to the threats facing it. Fast-moving adventure with heart and a message. Jack is as appealing a hero as Anthony Horowitz's Alex Rider, but the books will also appeal to fans of Gill Lewis' animal adventures, Gorilla Dawn and The Scarlet Ibis. ****Read a Q&A with Wilbur Smith on his inspiration behind Cloudburst and the different challenges of writing fiction for children.

3+ readers
5+ readers
April 2020 Debut of the Month | There's a classic painterly feel to this picture book but its message is very contemporary. Clem loves exploring along the seashore and collecting treasures in her bucket. These include shells and pebbles and pieces of glass, as well as brightly coloured plastic lids, bottles and netting. She befriends a little crab, caught up in a bit of netting and it hitches a ride home with her. Clem knows the crab belongs on the beach, but will he be safe there? Then a trip to the aquarium inspires her class to protect the ocean and together they clean up Clem and Crab's beach. It's a lovely story, and an important one, told so effectively in Fiona Lumber's carefully chosen words and beautiful illustrations.
Other Ecological and Environmental Interest - Fiction Books
Filter:
Baby and Toddler
3+ readers
5+ readers
7+ readers
9+ readers
11+ readers
13+ readers
YA readers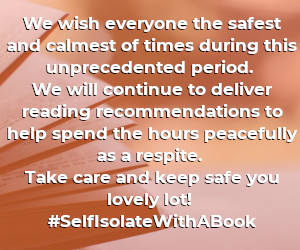 NEW INDIE AND SELF PUBLISHED BOOK REVIEW AND PROMOTION SERVICE LAUNCHED!
Read More
×