Emily Haworth-Booth - Illustrator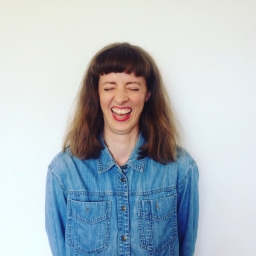 About the Illustrator
Emily Haworth-Booth is an award-winning author, illustrator and educator who teaches at the Royal Drawing School in London, England. Alongside her children's picture books, Emily is currently working on a long-form graphic memoir for adults. Her short comics have previously appeared in print in the Observer and Vogue. Just like the King in her story, she loves dogs, and is still sometimes a little bit afraid of the dark. Her debut picture book, The King Who Banned the Dark, was shortlisted for the Waterstones Children's Book Prize 2019.
Read a Q&A with the author here.
Follow her on Instagram
Featured books by Emily Haworth-Booth

9+ readers
11+ readers
A Julia Eccleshare Pick of the Month June 2021 | Thoughtful and inspiring, Protest! covers the theory of protest – how it works, why people take part, why it is so important in bringing about change – and, above all, the tactics to bring about change that were used in any particular protest. The individual protests are grouped together under headings including: Independence and Resistance which contains 'Resisting the Nazis'; Rights for Women from 'Suffragettes' to 'Women's Lib' and, bringing the subject up to date, Global Uprising including 'Arab Spring', 'Hong Kong' and 'Black Lives Matter' and New Grassroots including 'Extinction Rebellion' and 'School Strikes'. In the text and illustrations, Alice and Emily Haworth-Booth make these campaigns from the past vivid. Through their telling of these stories – which they acknowledge are the campaigns that they themselves are committed to -they inspire all those with a cause to support to get involved.

5+ readers
7+ readers
Following the success of The King Who Banned the Dark, Emily Haworth-Booth has created another timely, beautiful and enthralling fable. As the best stories do, it starts 'Once upon a time …' A group of friends looking for somewhere to live choose a peaceful forest, but the longer they live there, the more trees they cut down, and the loss of the trees leads to all sorts of problems. Fortunately, the children of the settlement choose to quietly protect the last tree, and from there rebuild a caring and happy society for themselves and their parents. The artwork, mostly retro green and black, feels timeless and deliberately child-like, but the story is urgent, contemporary and thought-provoking, and will speak direct to readers of all ages.

3+ readers
5+ readers
June 2019 Debut of the Month | Shortlisted for the Klaus Flugge Prize 2019 | Shortlisted for the Waterstone's Childrens Book Prize 2019 | Lots of fun to read, this book cleverly delivers some important messages. The new, young king is frightened of the dark, so on day one of his reign, he decides he'll ban it. His advisors realise the only way to make that work is if the people think it's their idea, and start an anti-dark campaign. It works, the dark is banished and, because everyone has got what they thought they wanted, everyone is happy. Until of course, they realise what living in constant light is really like. Emily Haworth-Booth gives her story a fairy-tale feel and fills it full of humour. Little children will identify with the king, but they'll understand why his scheme is not a good one. Brilliant!
Facebook Updates
If this is your illustrator page then you can share your Facebook updates with your readers right here on LoveReading4Kids
Find out more
CHECK OUT OUR INDIE AND SELF PUBLISHED BOOK REVIEW AND PROMOTION SERVICE
Read More
×