Look Inside How Computers Work Review
With flaps to lift on every page and friendly little robots providing the explanations and information, this book will help anyone understand how computers work. It shows readers how much a part of our everyday life computers are, and takes them behind the scenes and inside the computer so that they can understand the many different actions that occur when you touch the keys or screen. It takes a look too at the history of computers and how they've changed over the years, and even looks into the future. The information is presented clearly and in such a fun and interactive way that children will hardly notice how much they're learning. ~ Andrea Reece
Lovereading4kids Back to School Favourites: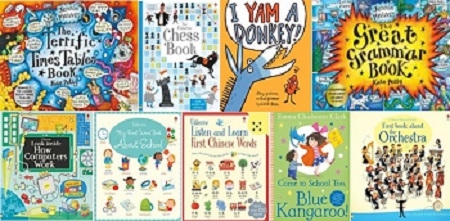 Listen and Learn First Chinese Words
The Terrific Times Tables Book
Come to School Too, Blue Kangaroo!
First Book About the Orchestra
Look Inside How Computers Work
My First Word Book About School
Look Inside How Computers Work Synopsis
Computer coding is now a compulsory topic on the UK National Primary Curriculum and this book backs up what is being taught 'Code Clubs' in schools.
36 million children have taken part in "hour of code" activities worldwide, and coding clubs are becoming an increasingly popular after-school activity. This book and the companion titles Coding for Beginners and Lift-the-Flaps Computers and Coding - are a fun and essential introduction to what can be sometimes still seen as an intimidating subject.
This smart lift-the-flap book takes a agood look inside the 'brain' of a computer. A useful and detailed introduction to a topic that has never been more important.
• Computer Science is an increasingly hot topic in the world today - the more we know about computers the better. This proudly nerdy book covers many interesting and important subjects such as servers, CPUs, apps and of course, the internet. A fantastic book for budding technologists and a great book to help with homework.
• The methodical illustrations - arrows, speech bubbles, and flowcharts - help to visualise the science of computers, making the topic easier to understand, and great fun to explore.
• With over 70 flaps to lift and discover more information.