First Book About the Orchestra Review
This little book is just the thing to show young children what an orchestra really is and how it works. From an opening page showing a group of musicians tuning up, it cleverly demonstrates what happens when all those people with their different instruments play together. Each spread introduces sections of the orchestra, naming the instruments and, via a special button embedded in each page, allows children to hear the music those instruments make too. It culminates with the whole orchestra plus conductor in the concert hall: press the button on the final page to hear the opening bars of their performance! Scan the QR code too to hear the piece all the way through. ~ Andrea Reece
Lovereading4kids Back to School Favourites: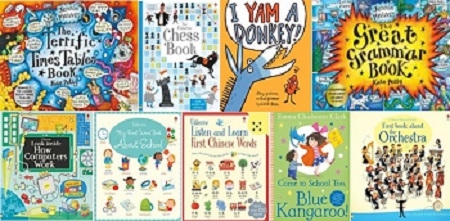 Listen and Learn First Chinese Words
The Terrific Times Tables Book
Come to School Too, Blue Kangaroo!
First Book About the Orchestra
Look Inside How Computers Work
My First Word Book About School
First Book About the Orchestra Synopsis
This lovely book is an ideal way to introduce young children to the sound of beautiful music.
Excellent sound quality transports the listener to the world of the musicians, starting with them tuning up to get ready to play.
This book gives a unique glimpse of how different sections of the orchestra blend together.