LoveReading View on My First Word Book About School
Bright, colourful and very attractive to look at, this is the ideal book for any child getting ready to start school. Not only is it an excellent book to build vocabulary, with over 300 familiar words illustrated, it will also reassure young children apprehensive about this big step in their life by emphasising the fun and friendly aspects of school. It also provides parents with lots of opportunities to talk about what goes on at school. The final page takes readers through the whole day, from getting dressed to going to bed, and everything in between. A fun and very useful little book.
Lovereading4kids Back to School Favourites: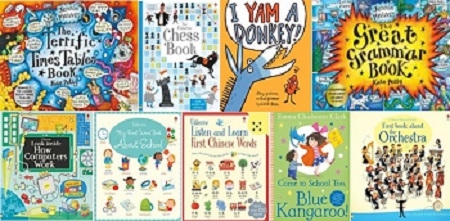 Listen and Learn First Chinese Words
The Terrific Times Tables Book
Come to School Too, Blue Kangaroo!
First Book About the Orchestra
Look Inside How Computers Work
My First Word Book About School
My First Word Book About School Synopsis
• This book is a simple way to calm any nerves about starting school - with charming illustrations and over 290 familiar words, this book will spark excitement about being in a classroom environment.
• Each page is themed by how objects/people appear at school; themes include 'in the classroom', 'maths words', 'music' and 'art'.
• Each page will initiate plenty of conversation about what happens at school.