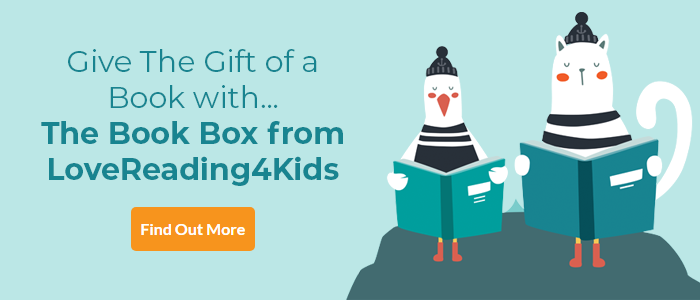 Shadowsmith Review
September 2016 Book of the Month
In a nutshell: good versus evil, spiders, finding courage
Ross MacKenzie won the Blue Peter Best Story Award for The Nowhere Emporium and Shadowsmith is another heart-racing adventure. Kirby's mum was hurt when a freak storm lashed their little fishing village and is in a coma. Slowly he realises that the storm and a series of strange, unpleasant events are linked. Helped by girl in a bright yellow coat – who turns out to be a powerful witch – he dares to fight the evil threatening his village and his family. This has all that the best books for children offer – real dangers to be faced and overcome, interesting and believable characters, humour, and a strong recognition of the importance of family relationships. Readers who enjoy this book should also look out for The Beginners Guide to Curses by Lari Don, The Crooked Sixpence by Jennifer Bell and Ned's Circus of Marvels by Justin Fisher. ~ Andrea Reece
Commenting on his new novel, the author: "I'm fascinated by magic and mystery and I wanted to explore the darker side of the supernatural, a world filled with huge spiders and witches and hideous, other-worldly beings. I hope the readers will enjoy reading it as much as I enjoyed writing it. The crucial question for them is, are they feeling brave?
Shadowsmith Synopsis
Are you brave? When mysterious Amelia Pigeon turns up at Kirby's bedroom window in the dead of night, this is the question she asks him - immediately before they tumble into a world of ancient malevolent spirits who have torn their way into Kirby's sleepy seaside village. Ross MacKenzie weaves a world of magic and adventure, which twists and turns magnificently and will keep thrilled young readers guessing right to the end.
MacKenzie's previous novel, The Nowhere Emporium, won the Blue Peter Best Story Award 2016, the Scottish Children's Book Award 2016 and the North East Book Award, and appeared on the shortlist for the Brilliant Book Award.
Shadowsmith Reader Reviews
Kids love to read and so in addition to our Lovereading expert opinion some of our Lovereading4kids Reader Review Panel were also lucky enough to read and review The Nowhere Emporium also by Ross MacKenzie. You can read their full reviews by clicking here.

Alex Hall, age 9 - 'This book is a page turner. The main character is an orphan and befriends a magician with an emporium which is full of mystery and magic and fantasy. It has a lot of action and is a very gripping.'

Lindsey Hall (Alex's mum) - loved it, a fabulous book and one that I think will many young people (and adults) will find enthralling.'

Isaac East, age 8 - 'Have you ever walked into a midnight maze where imagination takes over? Join Mr. Silver in he wonders from lands of sweets to a room of secrets. Then ride a roller coaster to defeat his arch enemy.'

Olivia Barnes, age 10 - 'Every chapter ends with a cliff-hanger, you are left falling off the edge and the only way to save yourself is to carry on reading.'

Louis Gladman, age 10 - 'When I started reading this book it felt like someone inside had me tied to a rope and was pulling me in and not stopping.'

Miranda Beinart-Smith, age 8 - 'Because I loved this book so much, I couldn't stop reading it and I stayed up very late to see what happened next!'

Robert Heathcote, age 11 - 'What a wonderful interesting book cover that tempts you in to read the story. The book is full of magic and adventure which starts from the very beginning which made me want to read more and more.'

Jack Summers, age 8 - 'This book is full of mysteries, secrets and wonders! Read it if you like magic and adventure stories.'
Sam Harper, age 11 - 'Fantastical, magical and spectacularly exciting. An amazing read with a beautifully illustrated cover, it's perfect!'
Tomasz Hawryszczuk, age 9 - 'An amazing book filled with magic and excitement. If you like Harry Potter and Dr Who, you will love this!'
Ella Meredith, age 8 - 'This is a bit of a spooky book, but really good.'
Liam Wilson, age 10 - 'Mysterious and intriguing. This book has a great cover and is so well written, I couldn't wait to read the next chapter.'
Callum Broomfield - 'I would recommend it to my friends in an instant. It's quite unlike any other book I've read. It is full of mystery and makes you feel like you are in the book.'
Alexander Butler - 'A very magical book that I couldn't put down - I got through it in record time!'
If you loved this, you might like these...