The Fox and the Star Review
October 2016 Debut of the Month This is such a charming and gloriously delightful short tale, about friendship, facing your fears and looking beyond the obvious. The Fox and the Star is a visually stunning story book; the illustrations are fabulous, mostly black, grey and blue with splashes of a vibrant and rich orangey red and yellow. Each time you look there is something different to catch your eye, from a scurrying beetle to a hidden rabbit. The striking illustrations wrap around, through and under the text, becoming at one with the words. Coralie Bickford-Smith, an award-winning designer, encourages the story to become a living tangible thing, making this is a book for your forever shelf, it is quite simply, a book to love and cherish.
PS: Make sure you see the short video clip in the synopsis as it reveals a tantalising glimpse of the beauty of this book. ~ Liz Robinson
The Fox and the Star Synopsis
The moving story of a fox, a star and an eternal friendship, written and beautifully illustrated by the award-winning Coralie Bickford-Smith - chosen as Waterstones Book of the Year, selected in Time Out's 100 Best Children's Books and loved by parents and children alike.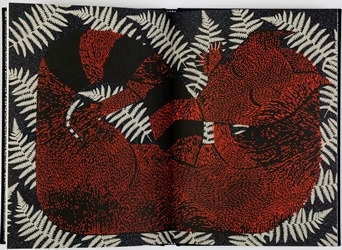 From an award-winning designer comes an original fable about need and loss. Once there was a Fox who lived in a deep, dense forest. For as long as Fox could remember, his only friend had been Star, who lit the forest paths each night. But then one night Star was not there, and Fox had to face the forest all alone.
The Fox and the Star Press Reviews
Brilliant ... A delight -- Philip Pullman
A per-fect gift ... I would like to frame each page -- Lauren Child, Guardian 'Books of the Year
A star book for all ages... the sort you want to keep for ever -- Kate Kellaway Observer
Intricate, exquisite... An outstanding gift for five-plus readers -- Amanda Craig, 'Picture Book of the Year New Statesman
A classic fable Daily Telegraph
A brief, beautiful book... If ever there was a reason to down the Kindle and go back to paper, this is it ... Her story is a delight ... It would, I think, act as a wonderful salve to anyone of any age who has experienced love and loss -- Alex O'Connell The Times
Colourful, substantial and something to keep forever Stylist
It's great ... Individual, elegantly and impeccably designed, and with a touching story; and it's technically and graphically intriguing -- David Gentleman
[This] beautifully illustrated picture book contains a moving message about love, loss and learning to accept change Marie Claire