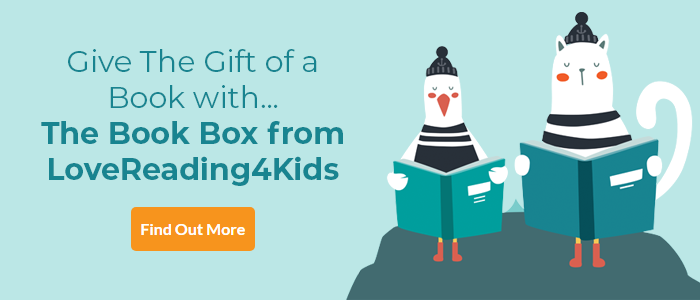 King Coo Review
May 2017 Book of the Month | A Julia Eccleshare Pick of the Month May 2017 |
A glorious romp of a story full of confusion and chaos but with a strong message about trusting yourself and standing up to bullies. Terrorised by Monty Grabbe, the very nastiest school bully you can imagine, Ben hides under the rubbish bin – one of the bullies favourite places of persecution – and finds himself in a twisting tunnel that leads him to somewhere quite unrecognisable and apparently a long, long way away. Now in the land of King Coo, a bearded female ruler, Ben enjoys some stinky, splotchy, squelchy adventures in which he also defeats Monty. Told in words and pictures, Adam Stower's hilarious story is beautifully presented in this hugely attractive hardback. ~ Julia Eccleshare
Julia Eccleshare's Picks of the Month for May 2017
The Lotterys Plus One by Emma Donoghue
King of the Sky by Nicoloa Davies
A Story Like the Wind by Gill Lewis
King Coo by Adam Stower
The Tale of Angelino Brown by David Almond
Cinnamon by Neil Gaiman
The Big Bird Spot by Matt Sewell
King Coo Synopsis
Meet the very ordinary Pole family, and young Ben Pole – or Bean-Pole as he's cruelly nicknamed by Monty, the school bully.
At the end of term Monty sets chase and Ben only just manages to escape by falling down a hole, where he discovers a hidden forest. A hidden forest ruled by King Coo – a tree-swinging, wombat-owning, trap-building, FULLY-BEARDED GIRL!
Prepare yourself for forest adventures, tree-top swings, waterslides, catapults and Wombatifier 2000s. Life certainly isn't dull with King Coo around – especially in a town ruled by a money-grabbing mayor, where there's a wild creature on the loose and a sinister pest controller on the prowl.
King Coo Reader Reviews
Kids love to read and so in addition to the review by one of the Lovereading4kids editorial experts some of our Lovereading4kids Reader Review Panel members were also lucky enough to read and review a sampler of this title. You can read their full reviews by clicking here.
Eleanor McIntosh, age 10 from Red Maid's Junior School - 'An amazing and fun book! I can't wait to read more!'
Ollie Hopwood, aged 7 and Toby Hopwood, aged 5 - 'King Coo taps into every fantasy my children have, with a mysterious forest filled with amazing treehouses, water slides into pools, mischievous characters, and even a friendly wombat. '
Erica Motoc, age 11 - 'It is hilarious with the way King Coo does things, really the quality of a good book. Did I mention the PHENOMENAL illustrations? I highly recommend this book.'
Prisha Yadav, aged 7 - 'I would recommend this book to everyone. I enjoyed reading this book as the story was amazing. I like the expressive pictures with some interesting information.'
Oscar Smith, age 9 - 'I would recommend this book to anyone who is a fan of funny books.'
Lila Arbell, age 9 - 'The illustrations are completely part of the story, a bit like the Ottoline series by Chris Riddell.'
Robyn Chorley, age 8 - 'King Coo was brilliant. I really liked it because it was exciting and mysterious.'
Annabelle Cassidy, age 8 - 'This is a really funny book that made me laugh out loud, and want to tell all of my friends about it.'
Ellen Cox, age 10 - 'This was the best book I have every read. King Coo is an excellent book that everyone will enjoy.'
Noah Scott-Sentance, age 10 - 'I thought it was really funny!'
Ellen Hall, age 7 - 'I loved this book from the start to the end.'
Toby Little, age 9 - 'Through the whole book, I never knew what was going to happen next, and the illustrations were really good.'
Adam and Lilia, age 8 ½ - 'You should read this book because the words and images together create a really enjoyable story.'
Edward Simmons, age 7 - 'I love King Coo and Ben Pole the most. I enjoyed all the illustrations, especially the full pages telling you about each character.'
Abbie, age 9 - Baring Primary School - 'King Coo is a very crazy, good book because, well it's just interesting and a very shiny book – it's a gold book.'
Elsa, age 9 - Baring Primary School - 'It might be short, but it's funny! Plus, it makes you want to read on! You better buy it, or you're missing out!'
Naysa, age 9 - Baring Primary School - 'King Coo is a hilarious book. If you read it, it will be very, very interesting and you won't want to stop.'
We also had a number of reviews from year 5&6 students from Tilston School. Here is a small selection of their review but please do click here to read all of their full reviews.
Cara M - 'King Coo is an amazing well planned book with intriguing events.'
Jack H - 'it is just such an amazing book.'
Theo - 'King Coo is a wonderful, entertaining book full of unexpected twists and turns.'
Louis - 'I really like the book because it's crazy and full of fun, the ideas are incredibly creative and the illustrations are very well made.'
Jasmine - 'King Coo is literally the best book I have ever read!'
Harvey - 'it just is the best book ever.'
Ollie J - 'King Coo is so crazy.'
Emily S - 'amazing!'
Grace W - 'an intriguing, fantastic book.'
Alex - 'it is a great book and it makes you laugh.'
Mya J - 'it is full of happy stuff'
Josh D - 'I liked the way it was set, and the book had strong vocabulary.'
Joseph - 'It is an exciting book (judging by the sample) ideal for Tom Gates or Goosebumps fans and I would recommend this book to a friend.'
If you loved this, you might like these...