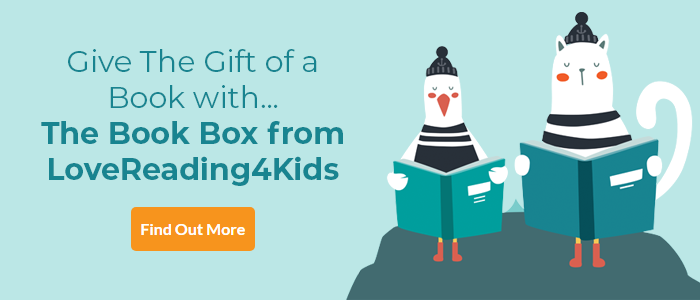 The Lotterys Plus One Review
May 2017 Book of the Month | A Julia Eccleshare Pick of the Month May 2017 |
A funny and touching family story with a difference just because the Lotterys themselves are a unique and diverse family leading a deliberately alternative life and with more complicated relationships than is usual. With four parents from different cultures, seven children and five pets for a start, things are bound to be lively. When an estranged grandfather with dementia joins them, a whole load of new situations arise as well as new scope for understanding and kindness. Written with great verve and a deep understanding of families and what holds them together The Lottery Plus One is both fun and thought provoking. ~ Julia Eccleshare
A Piece of Passion from editor, Venetia Gosling: 'it's a smart, funny and wise novel with a wonderful family set-up and family dynamic which readers will love. Emma has done a wonderful job of reflecting the world conveying it through the warmth and muddle of this very modern family.'

Julia Eccleshare's Picks of the Month for May 2017
The Lotterys Plus One by Emma Donoghue
King of the Sky by Nicoloa Davies
A Story Like the Wind by Gill Lewis
King Coo by Adam Stower
The Tale of Angelino Brown by David Almond
Cinnamon by Neil Gaiman
The Big Bird Spot by Matt Sewell
The Lotterys Plus One Synopsis
Meet the Lotterys: a unique and diverse family featuring four parents, seven kids and five pets - all living happily together in their big old house, Camelottery. Nine-year-old Sumac is the organizer of the family and is looking forward to a long summer of fun. But when their grumpy and intolerant grandad comes to stay, everything is turned upside down.How will Sumac and her family manage with another person to add to their hectic lives?
Internationally bestselling author Emma Donoghue's first novel for children, with black-and-white illustrations throughout, is funny, charming and full of heart.
The Lotterys Plus One Reader Reviews
Kids love to read and so in addition to the review by one of the Lovereading4kids editorial experts some of our Lovereading4kids Reader Review Panel members were also lucky enough to read and review this title. You can read their full reviews by clicking here.
Elleanore Phillips, age 9 - 'The book is full of jokes, it shows that everybody is unique with own character and talents and we should all live peacefully together accepting our differences...a perfect family read.
Amelie Weeks, age 10 - 'I found this book entertaining and interesting and I enjoyed reading about the Lotterys' chaotic life.'
Bella Rix-Clancy, age 9 - 'This book is fun and chaotic...I like that this book has two mums as my friend has two mums and he doesn't get to read many books with a family like his.'
Georgie Docwra, age 11 - 'This book was quite tricky for me to get into but it was worth the wait!'
Toby Little, age 9 - 'The Lotterys sound like a really chaotic family, but really, really fun. I wish I could be friends with them!'
Trinny Sadler, age 12 - 'A lovely book showing modern diversity and other opinions and also how people change their minds. A great read.'
Katie Bavister, age 12 - 'A sweet book with many funny and interesting characters...book that shows how to accept different characters and that all families are different and that it's ok to be different.'
Erica Motoc, age 10 - 'A lot of drama and modern issues treated in one amazing book!'
Issie Ford, age 9 - 'I would recommend The Lotterys to lovers of Jacqueline Wilson books because it is a family drama, and the lively and imaginative drawings really helped to bring the story alive.'
Harriet Harper-Williams, age 11 - 'It took me a long time to get into this book...I can't say that I found it exciting, as I prefer books that are a bit more adventurous.'
Amina, age 10 - 'This book was funny, interesting, exciting and fascinating. I'm sure there are tons more words but my list would be far too long. I loved this book it's different from other books I've read.'
Ellen Cox, age 10 - 'I would definitely recommend this book to the world as it is the best book that I have ever read. A very gripping story full of feeling...'
Elizabeth Bridgeman, age 9 - 'The Lotterys Plus One was good but not that good.'
The Lotterys Plus One Press Reviews
This engaging tale is moving without veering into sentimentality. For all the Lotterys apparent eccentricity, the novel delves into universal themes of family relationships that will resonate with readers from all backgrounds. -- Kirkus, starred review
A drily funny story about adjusting to new situations, Donoghue vividly captures the Lotterys' chaotic but always loving home… wonderfully offbeat -- Publishers Weekly
If you loved this, you might like these...