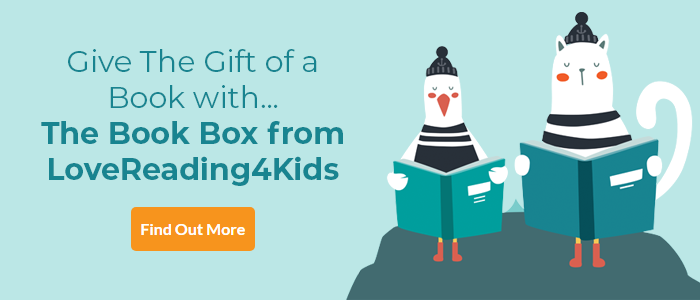 LoveReading View on The Nothing to See Here Hotel
Hilarious adventures in a very unusual hotel
March 2018 Book of the Month
Any young reader who enjoys funny, surprising, brilliantly inventive stories should check into The Nothing to See Here Hotel IMMEDIATELY. They'll be welcomed by Frankie Banister, son of the owners and great-great-great-grandson of troll legend Regurgita Glump, who still lives on the hotel's top floor. Frankie does a great job introducing the hotel and its bizarre assortment of magical guests and staff, including chef Nancy, the giant Orkney Brittle-Back spider, and Ooof the ogre doorman. The story takes off with the arrival of goblin prince Grogbah and his enormous entourage. He's a very difficult guest, and is Granny right when she decides he's up to something sneakerish? The plot zips along like the best-oiled luggage trolley and Butler and Lenton make readers feel completely at home in the extraordinary world they've created. A 5* reading experience and the first in a new series to boot.
Children of 7 to 9 are being really well-served by authors at the moment, and those who enjoy this book will also love the Amelia Fang series and Kaye Umansky's Witch for a Week.
Books in The Nothing To See Here Hotel Series:
1. The Nothing To See Here Hotel
2. You Ain't Seen Nothing Yeti
The Nothing to See Here Hotel Synopsis
Welcome to The Nothing to See Here Hotel! A hotel for magical creatures, where weird is normal for Frankie Banister and his parents who run the hotel. When a goblin messenger arrives at The Nothing to See Here Hotel, announcing the imminent arrival of the goblin prince Grogbah, Frankie and his family rush into action to get ready for their important guest. But it soon becomes obvious that the Banister family are going to have their work cut out with the demanding prince and his never-ending entourage, especially when it turns out the rude little prince is hiding a secret...
The first book in a fabulously funny series by bestselling author Steven Butler, with a host of whacky characters brought to life with illustration from the wonderful Steven Lenton!
The Nothing to See Here Hotel Reader Reviews
Kids love to read and so in addition to the review by one of the Lovereading4kids editorial experts some of our Lovereading4kids Reader Review Panel members were also lucky enough to read and review this title. You can read their full reviews by clicking here.

Ollie Hopwood and Toby Hopwood, age 8 and 6 - 'This book does what the very best children's books do – it provides a good dollop of stinky literary compost in which to grow kid's creativity and individuality in a world full of boring rules.'
Lucas Blake, age 7 - 'This book is weird, exciting and funny! Even though a very loud Granny Troll uses a yell-a-phone, this story is about keeping secrets. So if you read this book, keep what you learn to yourself!'
Rob, age 8 - 'A very funny book with lots of weird characters in it. I really liked this book. It is very funny, especially the ending.'
Sam Briggs, age 8 - 'This book is rib-tickingly funny! 10/10...This is a hilarious adventure full of excitement and I will recommend this book to everyone!'
Aggie Daniels, age 7 - 'I loved Frankie Bannister... I love all the magical stuff in this book. Just don't ask about the tower.'
Sam and Jack Radford, age 7 and 5 - 'We kept wanting to read more! We laughed so much at this story! It was really funny when our grandma read it because Frankie's grandma is a troll! It definitely made us giggle lots.'
Connor Lobban, age 9 - 'If you are a fan of the film Hotel Transylvania then I am sure you will want to read this. It is a more exciting version of that.'
Sophie, Y8, Thorp Academy - 'the author (Steven Butler) has really stepped out of the ordinary to create a wonderful story with an interesting plot and original ideas which would absolutely keep younger readers reading.'
The Nothing to See Here Hotel Press Reviews
'Hilariously funny and inventive, and I love the extraordinary creatures and the one thirty-sixth troll protagonist...' Cressida Cowell
'A rip-roaring, swashbuckling, amazerous magical adventure. Comedy Gold.' Francesca Simon
`This hotel gets five stars from me' Liz Pichon
'A splundishly swashbungling tale of trolls, goblins and other bonejangling creatures. Put on your wellies and plunge into the strangest hotel you will ever encounter. This is a hotel I hope I never find! Wonderfully, disgustingly funny.' Jeremy Strong
`What a fun hotel! Book me in immediately!' Kaye Umansky
If you loved this, you might like these...