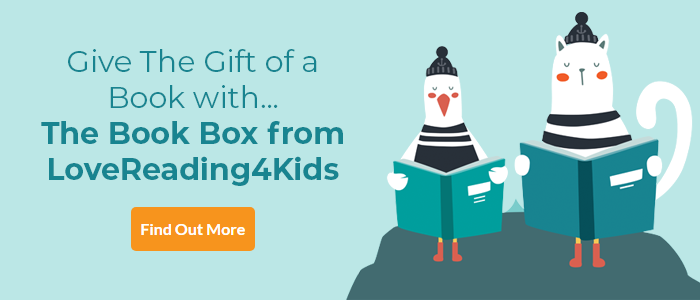 Uncle Gobb And The Green Heads Review
In a nutshell: Really? An Uncle Gobb story in a nutshell? You're having a laugh | Malcolm, his best friend Crackersnacker and Malcolm's awful homework-obsessed, bean counting (unless it's literal bean counting – see page 1) Uncle Gobb of Gobb Education are back for another helping of riotous adventure that sends all three on a trip to the United States. Packed with humour and word play that delights in turning logic, literalism and much of the story line on its head this will have readers in hysterics. Neal Layton's smudgy energetic illustrations match the zany anarchy of Michael Rosen's story brilliantly. ~ Andrea Reece
Uncle Gobb And The Green Heads Synopsis
The second uproarious adventure from the comic pairing of Michael Rosen and Neal Layton sees Malcolm and the peculiar Uncle Gobb go to America, each with a cunning plan ... Even though Malcolm managed to bamboozle and confuzle Uncle Gobb in the last book (hooray!), it was only temporary (boo!). Uncle Gobb is still living with him and still roaring at him about peas and poetry and Peter Parker. This time the plan to get rid of Uncle Gobb has to be mega. It has to be epic. It has to involve America, the Jumblies, the Genie (of course), Aunty Brenda the Mender and Malcolm's long-lost dad. But Malcolm doesn't know that Uncle Gobb also has a plan. A plan to get rid of Malcolm once and for all ...
A bonkers book about standing up for yourself, from two crazily creative people. Sure to delight fans of Andy Stanton and Tom Gates.
Click here to download an activity pack for Uncle Gobb and the Dread Shed.
Uncle Gobb And The Green Heads Reader Reviews
Some of our Lovereading4kids Reader Review Panel were lucky enough to read and review the first in this series, Uncle Gobb and the Dread Shed. You can read their full reviews by clicking here.
Amisha McCrystal age 13 - 'Uncle Gobb and the Dread Shed is a brilliant novel. A Must Read!!!! I felt this story was talking to me rather than me reading it.'
Tomasz Hawryszczuk, age 9 - 'This book was hilarious. The illustrations are very funny. I think the author has a great sense of humour and I can't wait for book number two!'
Gabriel Phelan, age 11 - 'Uncle Gobb And The Dread Shed is a funny, easy to read illustrated story.'
Marli Jones, age 11 - 'I recommend this book to ages 7-11 girls and boys. If you are a fan of comical writing, killer answers, and dread sheds this is the book for you.'
Evie Aconley, age 8 - 'If you like the sound of a Dread Shed, then this is the book for you!I really liked this book.'
Toby, age 8 - 'This book was a very funny book, even the chapter titles were funny. Throughout the chapters Uncle Gobb, Malcolm or Crackersnacker shout random remarks e.g I've been to china.'
Cuthbert Hill, age 10 - 'A great storyline and a unique, witty sense of humour.'
Tom Napier, age 10 - 'It's not often that you read a book that uses all sorts of different parts of other stories and puts them into one, which is what drew me into it.'
Rodrigo Davies, age 8 - 'I liked this book and thought it was entertaining.'
Rory Faulkner, age 11 - 'I feel it would appeal more to younger children. Whilst I love Michael Rosen as a poet, I found the nonsensical writing hard to follow and a little strange.'
Charlotte Rosevear, age 11 - 'When Malcom finds out the truth, Uncle Gobb puts him in the dread shed... will he make it out??? Read the book to find out.'
Cora Willans, age 8 - 'Very funny.'
Lucy Bridges, age 9 - 'It is a mind blowingly amazing book by Michael Rosen.'
Beth - 'Beth liked the humour in this story and thought that several of the boys in her class would enjoy it'
Isaac East, age 9 - 'This book is incredibly funny and made me laugh out loud. It is about 2 friends called Malcolm, Crackersnacker and an uncle called Gobb. Uncle Gobb is crazy about Malcolm doing homework.'
Uncle Gobb And The Green Heads Press Reviews
Praise for Uncle Gobb and the Dread Shed:
'Rosen doesn't just do funny … he is funny. Only a spoilsport would deprive us of a follow-up' SUNDAY TIMES CHILDREN'S BOOK OF THE WEEK
'Uproarious comic fiction' BOOKSELLER
'Hilariously irreverent' MUMSNET
'Ramshackle and silly in the best possible way …Any smart young reader who likes having fun with language should like this' FINANCIAL TIMES
'Michael Rosen's wild story full of sharp-shooting humour, creative word play and a general sense of
finely tuned storytelling anarchy is brilliantly matched by Neal Layton's illustrations' GUARDIAN
'Reassuring and entertaining … We'd expect nothing less from this industry treasure' GUARDIAN IBW SUPPLEMENT
If you loved this, you might like these...