LoveReading View on Bearmouth
Courage, rebellion and revolution run rampant in this boldly accomplished debut set in brutally exploitative Bearmouth mine
October 2019 Debut of the Month
Told in narrator Newt's distinctive phonetic English, this dark debut dazzles with originality and delivers a potent case for combatting inequality.
Bearmouth is home to a grim mining business, where men and children labour under inhumane conditions to make their Master wealthy. They work under the earth, under the omniscient Mayker who - so workers are told - "sen us down into the dark Earf/To atone for the sins o our forefarvers an muvvers". Naïve Newt hasn't seen daylight in years, but takes pride in being taught to read and write by fatherly Thomas, blithely accepting this lot until the arrival of new boy Devlin. Devlin's talk of "revolushun" makes Newt feel that things are "unravellin slowly slowly lyke a bootlayce comin all undun."
Life in Bearmouth is beyond bleak, but the sparks of Devlin's revolutionary spirit catch light and drive Thomas to ask the Master for "more coinage" for the workers, to question why they must pay for essential clothes, to demand to know when the promised safety lamps are coming. Then when tragedy strikes, Newt too realises that things "ent bloody well ryte" and takes on Devlin's insurgent tendencies, with explosive effects. Emotionally engaging, this searingly original novel about standing up to abuses of power and fighting for freedom is radiant with story-telling excellence.
Other Info
Inspired by Liz's research into the working conditions of early Victorian coal mines, Bearmouth shows an imagined world where workers are treated as little more than pit ponies, both living and working in the dark depths of a mine. Told first person, Bearmouth explores ideas around exploitation, truth and class through the unique voice of an extraordinary young person who dares to question the status quo.
Bearmouth Synopsis
Life in Bearmouth is one of hard labour, the sunlit world above the mine a distant memory. Reward will come in the next life with the benevolence of the Mayker. New accepts everything - that is, until the mysterious Devlin arrives. Suddenly, Newt starts to look at Bearmouth with a fresh perspective, questioning the system, and setting in motion a chain of events that could destroy their entire world. In this powerful and brilliantly original debut novel, friendship creates strength, courage is hard-won and hope is the path to freedom.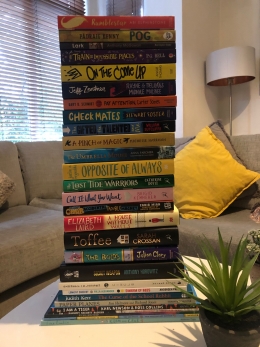 WE LOVE BOOKS! LoveReading4Kids is the biggest and best recommendation site for children's books. Our passion for children's books ranges from toddlers to teens and ensures that whatever the age, whatever the interest, that you have a steady stream of brilliant book recommendations for your child. Created in the same successful format of our original book recommendation website, LoveReading, we have a panel of editorial experts that select books right across the genres and age ranges, reading the latest releases to keep you fully updated. We also offer a variety of FREE services for parents and anyone who is interested in buying the best books for boys and girls of all ages. You can subscribe to our personalised newsletters which help you keep up to date with the latest and greatest book releases while receiving recommendations tailored to you. Sign up and select your preferences by registering with us today and receive our newsletters filled with the latest book recommendations in the categories of your choice. Our Star Books are a selection of our personal favourites from the books we've read each year. The ones that have really stood out from the crowd for us. We always say if you're only going to buy a few books this year, take a look at our Star Books selection. We have a HUGE giveaway for you to really end your year on a high. We're giving you the opportunity to win all the books selected as Star Books this year! That's around 40 books that you can keep for your family, share with friends or give as Christmas gifts. A year's worth of reading and some of our favourite books published this year, for you, for free! What are you waiting for? This draw is open only for UK residents currently in the UK and is free to enter, multiple entries from the same email address will only be counted once. The draw closes on 6th December 2019. The winners will be notified as soon as possible.
Bearmouth Press Reviews
Darkly brilliant. I was totally immersed... subterranean and claustrophobic and a vivid voice telling the story. Gill Lewis, author of A Story Like the Wind
Liz Hyder is a writer of true courage. David Almond
Ambitious and darkly brilliant... provocative, tender, claustrophobic and epic. It blew my mind. Kiran Millwood Hargrave
If you loved this, you might like these...
All versions of this book
About Liz Hyder
Liz Hyder is a writer, experienced workshop leader and award-winning arts PR consultant. She has a BA in drama from the University of Bristol and, in early 2018, won the Bridge Award/Moniack Mhor's Emerging Writer Award. She is currently working on her second book and a range of other creative projects. Bearmouth is her debut novel. Photo credit © Ashleigh-Cadet
More About Liz Hyder