LoveReading View on My Very Important World
For Little Learners who want to Know about the World
This children's encyclopedia of discovery will inspire little learners to wonder about the world around them. Our world is an amazing place. It's full of rivers, mountains, forests, and too many other amazing places to count - but that's not all. There's also families, friends, animals, music, technology, language, games, and all other things that make life wonderful.

We've got some great stuff related to this book in our KidsZone.
Head over there and check it out now.
My Very Important World Synopsis
My Very Important World is a celebration of our world and what it's like to live in it. On one page children will read about their body and brain, on another they'll learn about sporting events from around the globe, and on others, they can marvel at wonders of the Earth including The Great Wall of China, awe-inspiring Giant's Causeway, and the beautiful Rainbow Mountains of Peru.
My Very Important World makes a beautiful gift book with a padded jacket and colourful illustrations and images. Discover where the coldest place on Earth is, how many languages there are, why we sometimes feel scared, and much, much more. There's a big wide world out there - so turn the pages to explore it.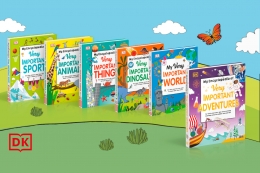 Nurture your child's curiosity with the My Very Important series of six encyclopedias for 5 to 9 year olds covering everything from animals and dinosaurs to adventurers, sports and the whole world! One lucky reader will win the COMPLETE SET of My Encyclopedia of Very Important books worth £89.94 - and then five runners up will win a copy of My Encyclopedia of Very Important Adventures! Scroll down for ways to enter!
If you loved this, you might like these...