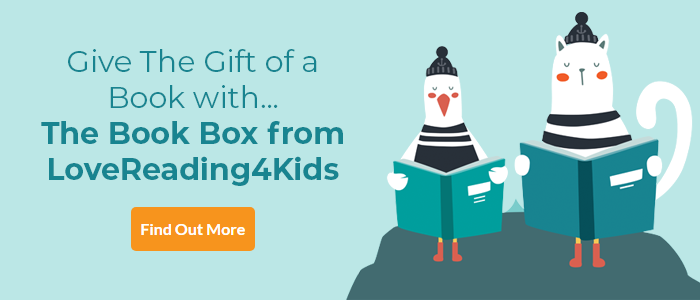 LoveReading View on The Boy Who Met a Whale
A thrilling adventure set in fictional Sri Lanka, jam-packed with peril and kidnap and a huge blue whale!
Selected for The Book Box by LoveReading4Kids
Nizrana Farook's latest adventure story sends readers to Sri Lanka in a story that combines treasure hunts, daring escapes from multiple dangers, and some fantastic blue whale action. Ship's boy Zheng is washed up on the shores of Serendib after his boat is shipwrecked. He knows that two villainous crew mates caused the wreck, and he has with him the reason why – his captain's treasure map showing the whereabouts of the famous Dagger of Serendib. Razi, a local fisherboy, finds and helps Zheng, but the two villains are almost instantly on Zheng's trail. With the added assistance of Razi's twin sister Shifa, the three children just about manage to stay one step ahead, but they need all their wits not to mention the unexpected help of a blue whale. The story is full of action and a great sense too of the camaraderie that develops between Zheng and Razi and Shifa. The setting makes this special as well, Farook treating her readers to a vivid encounter with the people, landscape, and wildlife of Serendib. One for all young adventurers!
Readers who enjoy this will also love the author's previous book, The Girl Who Stole an Elephant, and Natasha Farrant's Costa winning story Voyage of the Sparrowhawk.
Other Info
The Editor at Nosy Crow says: "From the author of The Girl Who Stole an Elephant comes another brilliant escapade! A thrilling adventure jam-packed with peril and plot and a huge blue whale!"

We've got some great stuff related to this book in our KidsZone.
Head over there and check it out now.
The Boy Who Met a Whale Synopsis
Razi, a local fisherboy, is watching turtle eggs hatch when he sees a boat bobbing into view. With a chill, he notices a small, still hand hanging over the side... Inside is Zheng, who's escaped a shipwreck and is full of tales of sea monsters and missing treasure. But the villains who are after Zheng are soon after Razi and his sister, Shifa, too. And so begins an exhilarating adventure in the shadow of the biggest sea monster of them all...
Dive back into the world of Serendib for another captivating adventure from the dazzling Nizrana Farook, author of The Girl Who Stole an Elephant. The Boy Who Met a Whale is full of storms and shipwrecks and buried treasure - and a whale that just might save the day. . .
The Boy Who Met a Whale Press Reviews
"There's fast-paced action, oodles of peril, heartfelt friendship and a joyful sense of wonder at the natural world." -Fiona Noble, The Bookseller
"A fabulous fun-filled adventure, crammed with high seas, dastardly villains and loveable heroes!" -Jasbinder Bilan, author of Asha and the Spirit Bird
"The Boy Who Met a Whale is another cracking adventure from Nizrana Farook … Serendib's shores glow in my imagination." Julie Pike, author of The Last Spell Breather
"The Boy Who Met A Whale has it all: menace, mayhem, majestic sea-creatures and even a melancholic ox whose dreams of finding adventure are hilariously fulfilled. I absolutely loved it!" – Hana Tooke, author of The Unadoptables
"SUCH a fantastic book. Filled with the most gorgeous description, heart racing adventure & peril, & such a great gang of characters." -Yasmin Rahman, author of All The Things We Never Said
If you loved this, you might like these...