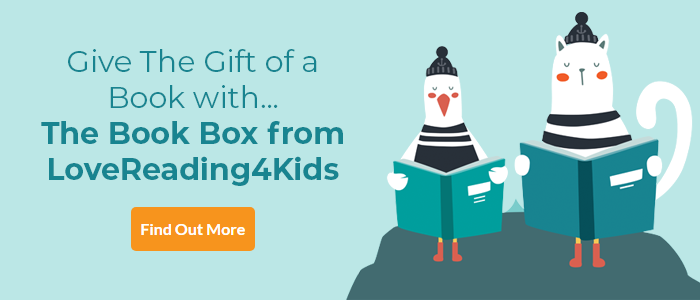 Moon Review
Winner of the 2011 Educational Writers' Award.
One of the greatest events of the twentieth century, the unforgettable moment of man's first landing on the Moon provides the perfect platform for this wide ranging introduction to many different aspects of the moon. After excellent coverage of the moon landing itself complete with the iconic photographs and a useful time line, the book explores the effect the moon has on everything that happens on earth as well as the myriad ways in which the moon has been perceived through history and by different cultures.
Don't forget that the most likely people to have the chance to be part of a successful mission to Mars will be those aged around 9 now so if you have a budding astronaut then start here with this book and/or one of the other titles we've selected such as Mission to the Moon or One Small Step to get the pulse rate soaring and the excitement building!!!!
The Educational Writers' Award was established in 2008 by ALCS (Author's Licensing and Collecting Society) and The Society of Authors to celebrate educational writing that encourages creativity and wide reading.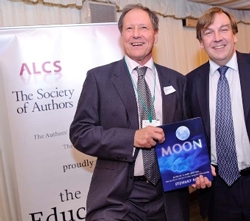 The prize was awarded at a ceremony at the House of Commons. Here's winning author Stewart with John Whittingdale MP, Chair of the APWG.
Moon Synopsis
The Moon is the only natural satellite of the Earth. It is the second brightest object in the sky after the Sun. Since prehistoric times, the Moon has been an object of fascination, awe and even worship for many peoples worldwide. Called Luna by the Romans, Selene and Artemis by the Greeks, and many other names in other mythologies, it has always been a romantic icon; even after man had walked on the moon it retained its romantic appeal. The fortieth anniversary of the Moon landings is an opportunity to look at the Moon from many angles; historically, as an object of worship; traditionally, as one of the first objects for scientific research in the solar system; artistically, the Moon features in paintings (Rousseau, Chagall etc) books (Moonfleet, the Moonspinners, The Moon's a Balloon etc) films (Moonstruck, Moonraker, Moonlighting etc) endless music (from Moonlight sonata and Clair de Lune to Bad Moon Rising and Moon River); and finally scientifically, an exploration of the historic journey to the Moon and back in 1969.
Moon Press Reviews
"a fascinating mix of science, history, literature and religion, with a strong and engaging authorial voice, that will appeal to a wide audience" - 2011 Educational Writers' Award judges, (children's writer Nicola Davies, teacher Chris Freudenberg and librarian Fiona Kirk)
If you loved this, you might like these...