LoveReading View on Coco Caramel
February 2014 Book of the Month Horse-mad Coco is the youngest of the sisters in the family. Different from all the others, she is a tomboy at heart and passionate about saving the endangered species of the world. Coco's main passion is for riding and it is through her love of horses - and the temperamental Caramel in particular - that Coco gets involved with the moody and unpredictable Lawrie Marshall. Soon Coco finds herself in all kinds of trouble while also trying to keep abreast of the complicated lives of her sisters! Will the chocolate box girls lives ever settle down to something like normal? Cathy Cassidy brings an ebullient family vividly to life.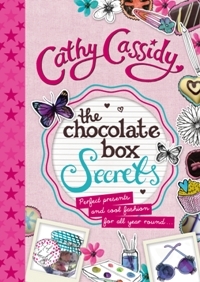 ***And all Cathy fans will love The Chocolate Box Secrets. It's a delicious scrapbook of fun, creative ideas from the Chocolate Box Girls.
Make your own vintage style top or try some of the recipes and there are some cool ideas to make your sleepovers really fun!
Coco Caramel Synopsis
Coco is the youngest of the Tanberry sisters but she's as headstrong as any of them. Coco is crazy about animals and loves her riding lessons. When Caramel, her favourite pony at the stables, is sold, Coco scopes out the new owner - and she's not happy about what she discovers. With big sister Honey going off at the deep end and Summer only just recovering from her eating disorder, there's no-one at Tanglewood to help Coco out. Can Coco save Caramel alone - or will a new friend help her?
A perfect next step for fans of Jacqueline Wilson, by the bestselling author of Scarlett, Dizzy, Angel Cake and Ginger Snaps.
You can find videos of all the Tanberry sisters on Cathy Cassidy TV!
The Chocolate Box Girls series:
Cathy Cassidy has written a few ebook short stories featuring characters from the Chocolate Box books. In Coco Caramel you met Lawrie; he can't wait to return to Tanglewood for Christmas - he hasn't forgotten Somerset or the friends he made there, especially Coco Tanberry. But when his beloved dog Sheba goes missing he and Coco are once again mixed up in a daring animal rescue...

Will Lawrie's visit turn out to be a hopeless search or will he and his family finally find what they are looking for?
You can download an extract here and visit Cathy Cassidy's website to buy the ebook!