LoveReading View on Charlie Merrick's Misfits in Fouls, Friends, and My World Cup
Charlie is the captain of the local youth team, North Star Galaxy. He eats, sleeps, and breathes football. But when Colts steal all of North Star's best players, it's up to Charlie and his friends to save the team... Told in Charlie's own words and doodles - this book will make you laugh, groan, and cheer!
Charlie Merrick's Misfits in Fouls, Friends, and My World Cup Synopsis
'I play for North Star Galaxy and this is the story of our first season. I don't know how it's going to end - but I hope it will be at the World Cup Finals this summer! I'm going to tell you everything that happens - the truth - however painful that might be.'
Charlie loves football. He watches it, memorizes facts about it, and he's even the captain of the local youth team, North Star Galaxy. When Charlie discovers that youth teams are being selected to play in exhibition matches at the World Cup tournament later that year he decides to enter North Star. There's one problem. He's got to prove that North Star deserve a place at the tournament and that's not easy when your team are kind of rubbish at football!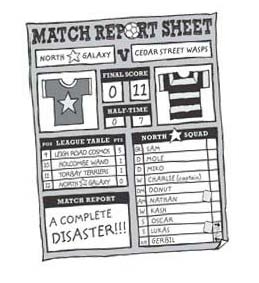 This book takes the form of Charlie's competition entry for his team to play a warm-up match at the World Cup - it's crammed with hilarious doodles, true facts, and match reports, and is totally accessible for boys, girls, reluctant readers, and footie-mad kids everywhere!
A note from Dave Cousins 'I love football, writing and comics, so the opportunity to combine all three was too good to miss. The story and the characters came from my own experience of playing football as a kid —I was never a star, just loved to play, hang out with my mates and be part of a team. Charlie's story is primarily about friendship, ambition and choices—football, with all its inherent drama, provides the perfect stage and setting.'
Fouls, Friends and Football is inspired by Dave Cousins' lifelong love of football, and in particular, Birmingham City FC. Charlie's namesake Gil Merrick, was a Blues legend and former England goalkeeper in the 1950s.
There are some fantastic Charlie Merrick activity sheets to download...
Keep track of all the action during the World Cup - your own World Cup Chart!
Create your own football collectors cards!
Make your own football comic!
Design your own football kit!
Write your own match report!

Charlie Merrick's Misfits in Fouls, Friends, and My World Cup Press Reviews
Got a young football fan who struggles to engage in books? Give him, or her, this and things may well change! Parents in Touch
A must-read for all young football fans Parents in Touch
There are so many good things to say about this book! The illustrations make the characters personalities come to life, and the variety of styles used to tell the story make for wonderful little surprises with every turn of the page. Bridget Hamlet, The School Librarian Journal
Sure to get boys, girls and football mad kids reading in the run up to the world cup! Shoot.co.uk
A terrifically fun read from Dave Cousins which any young football fan will love. Waterstones.com
The characters had a lot of depth, the storyline was interesting enough for me to like it, even though Football really isn't my thing... Novak, Spider blog
Since I know very little about football, I particularly enjoyed the match report sheets and the little fact boxes peppered throughout the novel ... The humour is genuine and not patronising, which will hopefully launch this into the territory of Wimpy Kid and Tom Gates. The School Librarian
No footie-mad child will want to miss out on this all-action, fun and frantic story... perfectly football-pitched for sporty kids and reluctant readers Pam Norfolk, Lancashire Evening Post