Anthony Horowitz's creation of Alex Rider, the teenage spy, back in 2000 has transformed reading for hundreds of thousands of children. In addition to the books in the series, many have been reproduced as graphic novels, there's a tv series based on the books and even a film.
Clever, resourceful and never one to give up on his exploits, the schoolboy turned superspy who is forcibly recruited into MI6 has found himself in many far flung places in the world, and even in space, armed only with his own special set of secret gadgets.
Perfect page-turners for 11+ readers, the stories are packed with tension, excitement and humour - and Alex Rider himself is super-smart, super-resourceful and super-cool.
Our Reader Review Panel has reviewed all of the Alex Rider adventures over the years and universally love this series, here's a taster of what they thought...
Tomasz Hawryszczuk, age 12 - 'One of the best series of books ever written in my opinion. Once you start reading, you can't put it down. If you like fast paced adventure stories with edge of your seat writing - this is for you!'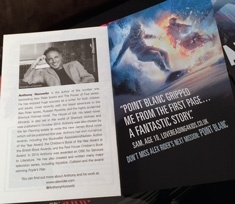 Jamie Bamford, age 13 - 'this book grabs hold of you tightly, reels you in and before you know it you're stuck in the wonderful world that Anthony Horowitz has so brilliantly created.'

Imogen Fisher, age 14 - 'action-packed, well written and it was full of plot twists and exciting new things...an amazing series!'
Dylan Sweet, age 11 - 'One of the best series I've read in my life. It's unforgettable'.
And excitingly most of the Alex Rider books have a quote from one of our Kids Reader Reviewers on the inside back cover!
But once you've devoured the 13 books in the Alex Rider series, what do you read next? We have a collection of action-packed adventures for you!