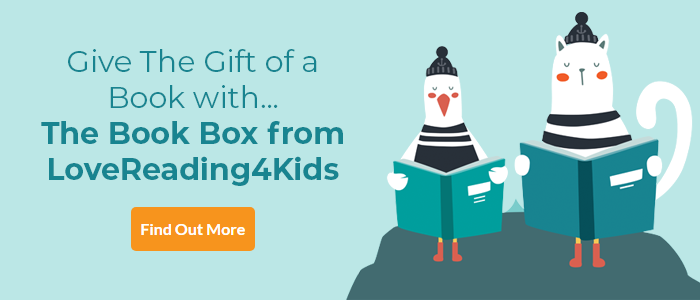 Father Christmas and Me Review
November 2017 Book of the Month | A Julia Eccleshare Pick of the Month October 2017
Matt Haig's romping adventure breathes fresh life into everything Christmasy. It is a bustling story full of delightful surprises and some wonderful dollops of magic. Orphaned Amelia, the feisty heroine of The Girl Who Saved Christmas is back for a new adventure in the magical town of Elfelm – a place unknown on human maps. Now adopted by the newly married Father Christmas and Mary Christmas Amelia's life is a far cry from her sad life in the world of humans. But being the only human in an Elf world, especially one where it is always Christmas, has its disadvantages. Christmas songs can get boring; toy- making tests are a new kind of torture. However, when Christmas is under attack from the jealous Easter bunnies, Amelia is the first to fight back and save the day. ~ Julia Eccleshare
Julia Eccleshare's Picks of the Month for October 2017
A Skinful of Shadows by Frances Hardinge
The Wolf, the Duck and the Mouse by Mac Barnett and Jon Klassen
Illegal by Eoin Colfer and Andrew Donkin
The Land of Neverendings by Kate Saunders
The Wizards of Once by Cressida Cowell
Pax by Sara Pennypacker and Jon Klassen
Egyptomania by Emma Giuliani and Carole Saturno
Father Christmas and Me by Matt Haig
The Greatest Magician in the World by Matt Edmondson
Father Christmas and Me Synopsis
It isn't always easy, growing up as a human in Elfhelm, even if your adoptive parents are the newly married Father Christmas and Mary Christmas. For one thing, Elf School can be annoying when you have to sing Christmas songs everyday - even in July - and when you fail all your toy-making tests. Also it can get very, very cold.But when the jealous Easter Bunny and his rabbit army launch an attack to stop Christmas, it's up to Amelia, her new family and the elves to keep Christmas alive. Before it's too late . . .
Father Christmas and Me Press Reviews
Praise for The Girl Who Saved Christmas:
Absolutely brilliant CBBC
Full of heart and humour Daily Express
Will melt your Grinch-frozen heart -- Simon Mayo
A lovely, warm, enveloping seasonal read Guardian
Oh what fun it is to READ! . . . Full of wonderful characters. (We all need a Truth Pixie in our lives) Daily Mail
Praise for A Boy Called Christmas:
A Christmas classic for a new generation . . . touching, funny and packed with memorable characters Sunday Mail
A glorious mix of fairytale, folklore and fun FRANCESCA SIMON
The most evergreen, immortal Christmas story to be published for decades STEPHEN FRY
Terrific . . . An instant classic GUARDIAN
Read it! SUNDAY TIMES
If you loved this, you might like these...