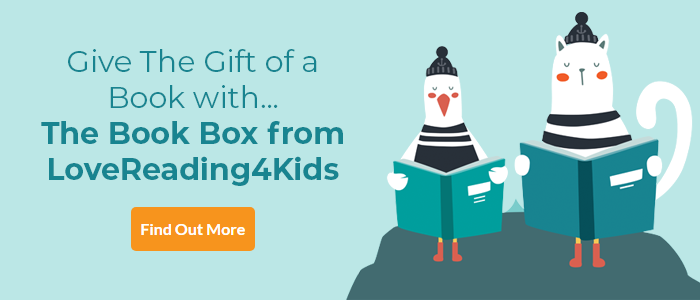 Kat Wolfe Investigates Review
One of our 2018 Books of the Year
This new series has everything that marks out the best, most satisfying and enjoyable children's books. For a start there's a smart but impulsive, ready-for-anything central character in Kat Wolfe, who quickly finds an equally enterprising new best friend, Harper Lamb. Then there's a procession of the best pets/animal helpers ever, from half-feral Savannah cat Tiny to flighty racehorse Charmed Outlaw, to movie-line quoting parrot Bailey. Put them into an adventure involving genuinely threatening double-crossing secret agents, and incompetent would-be assassins, all set in a beautiful and perfectly described Dorset coastal village, mix in warm family relationships, and you have one of the best new adventure stories of the year. Lauren St John brings all the elements together with seemingly effortless ease and there can't be a young reader in the country who won't lap this up.
June 2018 Book of the Month | In a nutshell: animals, adventure and an irresistible cast of characters
Books in The Wolfe and Lamb Series:
1. Kat Wolfe Investigates
Kat Wolfe Investigates Synopsis
After a break-in at their London home, Kat Wolfe and her veterinary-surgeon mum decide it's time to move to the country. Dr Wolfe's new job in idyllic Bluebell Bay on Dorset's Jurassic Coast comes with a condition: they have to adopt Tiny, a huge, near-wild Savannah, who resists Kat's best attempts at cat whispering. When she starts a pet-sitting agency to make pocket money, her troubles escalate. The owner of her first client, an Amazon parrot, vanishes from his fortified, gadget-filled mansion, leaving a half-packed suitcase and a mysterious parcel. The only person who shares Kat's conviction that he's the victim of foul play is Harper Lamb, the American daughter of a palaeontology professor. A language and coding whizz, Harper is laid up with two broken legs thanks to her racehorse, the `Pocket Rocket' - Kat's newest client. What starts out as mystery-solving holiday fun quickly turns deadly for Wolfe and Lamb. When all clues point to an army base, can they count on their unruly animal friends to save the day - and their lives?
Kat Wolfe Investigates is the first in a compelling middle-grade mystery series from bestselling author Lauren St John.
Kat Wolfe Investigates Reader Reviews
In addition to our Lovereading expert opinion some of our LoveReading4Kids Reader Review Panel members were also lucky enough to read and review this title. You can read their full reviews by clicking here.
Ellen Hall, age 8 - 'This is a page turner. As she is pet sitting, Kat and her new friend Harper, who is very good at hacking into things, get caught up in a murder mystery...can they solve the crime?'
Ethan Watkin, age 10 - 'I give this book 8/10 - bit tricky to begin with but definitely worth reading. A good mystery novel for ages 10 and up.'
Jemima Buttling, age 10 - 'Police...Nuh, uh! We've got Kat!'
Bella, age 11 - 'Fantastic book I've really enjoyed reading it. I love the suspense that builds during reading it.'
Punam Shah, age 11 - 'A gripping good book with many twists and turns. I loved this book as it was mysterious. When I saw the front cover and back cover of the book I was mesmerised and intrigued.'
Evie Macauley, age 11 - 'A great really couldn't put it down. full of adventure a mystery. Hope to read more about Kat in the future!'
Alexander Bisland, age 12 - 'I recommend this book to 8+ and give it 5****. I couldn't put it down!'
Amy, age 12 - 'I think this is a great book and I would give it five stars.'
Libby Bridgeman, age 10 - 'I think this is a good book, but I think it goes on for a bit to long, and the mystery doesn't start until later. I rate this 2 stars.'
Oliver Lonsdale, age 10 - 'I loved this book so much it took me quite a long time reading it but maybe that's just me:-)'
Kat Wolfe Investigates Press Reviews
A story with a great sense of adventure, transporting you to that place of excitement when you can't wait to find out what happens next! - The Book Activist, Book of the Month
All you want from a good mystery - a compelling storyline, a determined lead character, heroes and villains, some intriguing animals for a refreshing change... all excellently interwoven - Parents in Touch
Kat Wolfe Investigates is the kind of book I'd have devoured as a child - lucky, lucky kids having this to read now. -- Abi Elphinstone
Warm, intriguing characterisation with just the right amount of peril - not to mention a resident wildcat. -- Imogen Russell Williams - Guardian
St John is a wonderful writer... this is just the sort of thoroughly wholesome novel that should really be consumed outdoors. -- Emily Bearns - Telegraph
Full of adventure, excitement, heart and wit... Kat Wolfe Investigates is a story to delight in. -- Katherine Rundell St John's book is suspenseful in its shifting possibilities, constructed with care, scattered with information, techno-savvy and engaging in its characterisation -- Nicolette Jones - Children's Book of the Week, Times
Everything you want from a Lauren St John book: timeless storytelling with a contemporary edge, thrilling mystery, characterful animals and tenacious children yearning to make their mark on the world. - Editor's Choice, The Bookseller
Hurrah for a new series from Lauren St John! It's literary Katnip for the summer holidays - especially for dedicated pet fanciers... St John writes with apparent ease, but refuses to compromise on language while mixing modern life with old-fashioned Blyton-style follow-the-clues mystery. It's an excellent combo. If this first invigorating book is anything to go by, St John had better start writing some follow-ups. -- Alex O'Connell - Saturday Times, Children's Book of the Week
If you loved this, you might like these...