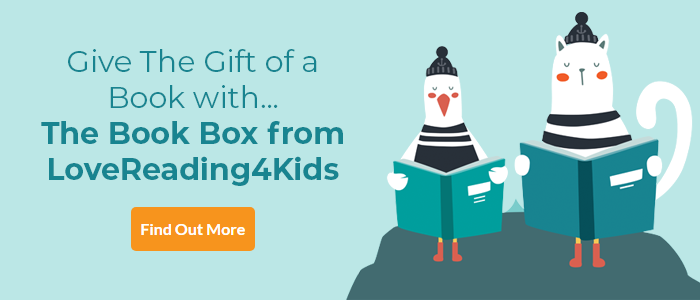 Kid Normal Review
In a nutshell: hapless heroics from a wimpy kid in a Harry Potter world
July 2017 Debut of the Month
Imagine what it would be like if you were you, an ordinary kid, but by complete accident you enrolled in a school where everyone had an amazing superpower. That's exactly what happens to Murph Cooper, and the resulting story is very funny indeed. This is the first children's book by radio stars Greg James and Chris Smith, and it's a zany mix of slapstick, colourful characters and superhero jokes. Beneath all of that too it slips in an important message about how ordinary can be special too. This is a great summer holidays read and if you're looking for a book for bedtime it's great fun to read aloud.
Books in The Kid Normal Series:
1. Kid Normal
2. Kid Normal and the Rogue Heroes
3. Kid Normal and the Shadow Machine
4. Kid Normal and the Final Five
5. Kid Normal and the Loudest Library
Kid normals will also enjoy these books in the same vein: My Brother is a Superhero, Othergirl by Nicole Burstein and Shane Hegarty's Darkmouth series.

We've got some great stuff related to this book in our KidsZone.
Head over there and check it out now.
Kid Normal Synopsis
When Murph Cooper rocks up to his new school several weeks into the beginning of term, he can't help but feel a bit out of his depth. And it's not because he's worried about where to sit, and making friends, and fitting in, or not knowing where the loos are. It's because his mum has enrolled him at a school for superheroes by mistake. And unlike his fellow students, who can all control the weather or fly or conjure tiny horses from thin air, Murph has no special abilities whatsoever. But just because you don't have superpowers, it doesn't mean you can't save the day. Let's hope Murph realises that, and quick - because not far away is a great big bad guy who is half man and half wasp, and his mind is abuzz with evil plans...It's time for Kid Normal to become a hero!
Perfect for fans of David Solomons, David Baddiel and Danny Wallace. Featuring brilliant illustrations by Erica Salcedo throughout.
Watch a video of the authors Greg James and Chris Smith talking about the very first Kid Normal book on KidsZone.
Kid Normal Reader Reviews
Kids love to read and so in addition to the review by one of the Lovereading4kids editorial experts some of our Lovereading4kids Reader Review Panel members were also lucky enough to read and review this title. You can read their full reviews by clicking here.
Alexander Bisland age 12 & Daniel Bisland age 10 - 'We enjoyed this book because it was funny and leaves you on the edge of your seat. We give it 5/5. We recommend it to 9+.'

Erica, age 11 - 'So, this phenomenal book is perfect for anyone in doubt or any one who is thirsty for adventure and it's perfect for any age. Just remember, if in doubt, there's always a silver lining to every cloud.'

Emily Yates - 'Kid Normal is a story of trust, bravery and friendship, along with a touch of very silly fantastical ideas, that seem so real that they come alive on your page!'
Joshua Beverley, age 9 - 'This book is hilarious, gripping and takes you on a journey through Murph Cooper's schools. Murph moves around a lot but nothing prepares him for 'The School'...Find out all about it in 'Kid Normal'- an extraordinary story about an ordinary boy.'
Josh Parcell, age 10 - 'The book is really funny because strange and weird things happen and I really like that...I would rate this book a million out of 10, probably the best book I've read this year.'
Kid Normal Press Reviews
"Kid appeal aplenty, genuinely warm and funny writing, an excellent wasp-man villain and a positive message about discovering your own strengths" Fiona Noble, The Bookseller
If you loved this, you might like these...